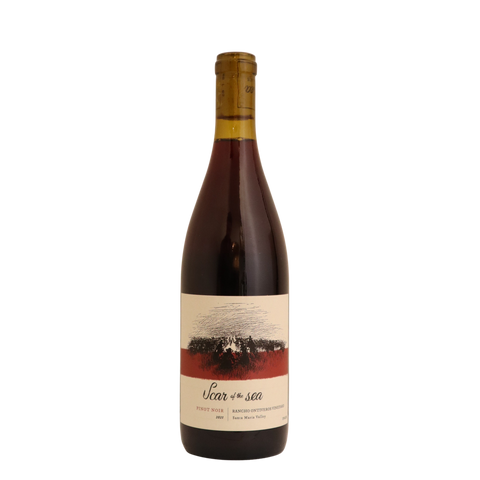 2021 Scar of the Sea Pinot Noir "Rancho Ontiveros", Santa Maria Valley, California, USA
Single vineyard Pinot Noir with beautiful ocean influence you can taste. The fruit comes for older vines giving complex length and depth the the wine.
ABOUT THIS WINE
From a legendary and exemplary site, this wine is no exception. Pinot Noir of the most classic Santa Barbara stock. The Rancho Ontiveros property was part of the original Spanish Land Grants in the region and takes a great amount of influence from the nearby ocean. This wine is made from the older selections of pinot in the organically farmed vineyard. 
ABOUT THIS PRODUCER
Scar of the Sea was established in 2012 and is owned & operated by Mikey & Gina Giugni in San Luis Obispo, California.
"The Central Coast offers us the opportunity to live, work, and play by the sea, who is influential to the vineyards we work with and how we spend our time. The ocean's presence has shaped our way of life along with the climate, soils, and geology of the coastal vineyards we work with that fall under the spell of her fog each day.
Scar of the Sea focuses on working with farmers who are instrumental in farming for the future and making wines with as little intervention as possible. Our wines are made with the intention to tell a story of where they come from, the people who farm them, and reflect each vintage under the California sun."
Scar of the Sea wines are made prioritizing organic vineyard sources, fermenting with native yeast, no fermentation additions, and bottling in the absence of fining/filtration. All the wines produced see a minimal amount of sulfur before bottling that is based on the wines natural pH to retain freshness and longevity.