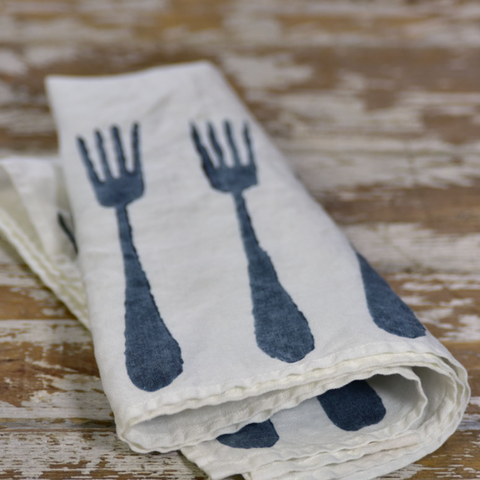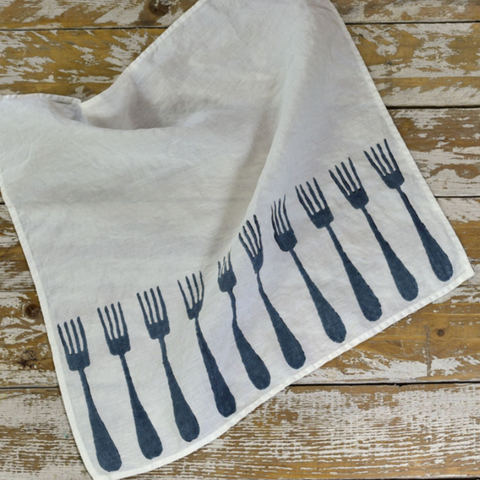 BERTOZZI - Fork Chambray Napkin 20x20
Lightweight 100% Italian linen napkins hand stamped by Bertozzi with unique designs. 20x20 inch size. 100% natural crumpled linen machine washable no need to iron.
ABOUT THIS PRODUCT:
Bring a sense of fun and colour to your table with these charming handcrafted organic linen napkins. They feature the hand-printed Forchette design, which was made in 1949 by the celebrated Italian artisan, Luigi Bertozzi. Created from the very highest quality, lightweight, naturally crumpled linen, these endearingly distinctive napkins are very versatile – so unique and special that they are perfect matched for a celebratory occasion or for a less formal dining event.
ABOUT THIS PRODUCER:
Since 1920, the Bertozzi family have been creating wonderful hand-printed and hand-painted fabrics in their workshop in the Emilia-Romagna region. Using traditional techniques that date back many centuries, these master craftsmen hand-carve blocks of pear wood to produce the stamps that are used to print their own exclusive designs onto the finest hand-woven linen.
Stamperia Bertozzi's offering is the most eclectic of all our artisan partners, as they produce items for almost every part of the home, as well as a selection of aprons and scarves. From cushion covers in a plethora of designs to throws made form waffled linen, this collection has something for every living space. For the bedroom, not only do they have a range of exquisite bed linen and quilts, but they can provide a bespoke service to ensure your bedding sets are made-to-measure and truly unique in design.
Their workmanship also extends to bathroom pieces; available in hand towel or bath towel sizes, Stamperia Bertozzi have utilised linen's unrivalled absorbency to create towels sure to add luxury to a bathroom. This absorbency is a quality which also gives their variety of elegant tea towels their functionality.