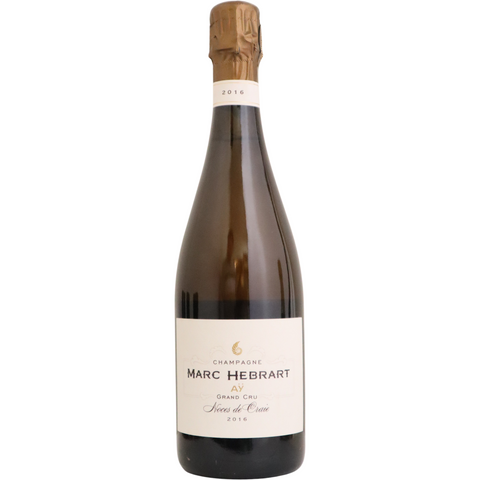 2016 Marc Hébrart "Noces de Craie" Extra-Brut, Vallée de la Marne, Champagne, France
The 2016 Extra Brut Noces de Craie is fabulous. Rich, powerful and explosive, it exudes Pinot intensity, with layers of chalky, saline notes that run through a deep core of fruit. This is a decidedly virile style. It finishes with tremendous vinosity and all of the textural resonance that is typical of Champagnes from Aÿ
There are 3 units left in stock.
ABOUT THIS WINE
100% Pinot Noir from the  Aÿ Grand Cru, Cheuzelles, Longshamp, Pierre Robert, Pruche, Chauffour. This is aged in stainless steell and sees 36+ months on lees. 
ABOUT THIS PRODUCER

Jean-Paul Hébrart took over the operations of Marc Hébrart Champagne in the Vallée de la Marne from his father Marc in 1997. This estate is not exactly new: Jean-Paul's father has been producing champagne under the Marc Hébrart name since 1964 and has been a member of the Special Club since 1985. Hébrart farms 14 hectares of vines on 65 different sites in 6 villages: the 1er cru vineyards of Mareuil-sur-Aÿ, Avenay, Val d'Or and Bisseuil and the grand crus villages of Aÿ as well as Chouilly and Oiry in the Côte des Blancs.