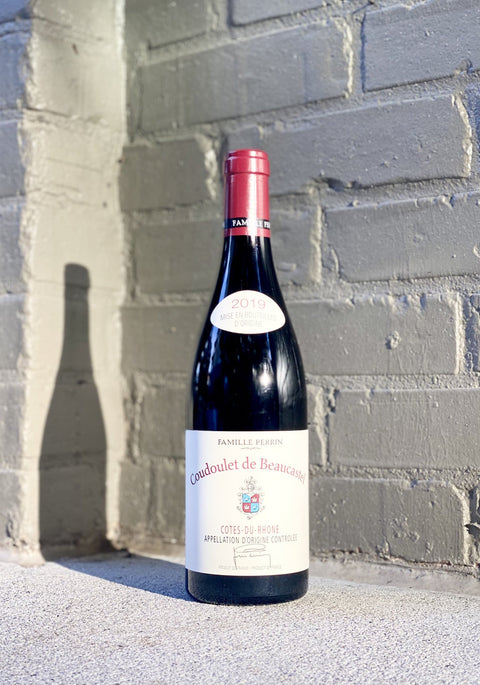 2019 Coudoulet de Beaucastel Côtes du Rhône, Rhone Valley, France
Characteristically dense in color features scents of sun-warmed stones and ripe raspberries. Medium to full-bodied, with the Mourvèdre makes itself known with intense plum and licorice on the long finish.


ABOUT THIS WINE

The 2018 vintage is characterized by exceptional weather conditions. Flowering took place in the best possible conditions, with a historically abundant grape output. A few rainy episodes at the end of the spring complicated things a little with an attack of mildew, but the good weather then settled down until harvest, which took place under idyllic conditions. The wines are beautiful.

The 30 hectares of Coudoulet are located just east of the vineyard of Beaucastel on the other side of the A7 motorway. For reasons that have now become obvious, Coudoulet is often considered the baby Beaucastel. The Coudoulet soil has many similarities to that of Beaucastel. It is made out of Molasse seabed covered by diluvial alpine deposits. These pebbles called "Galets Roulés" play a big role: They take in the heat during the day and let it if off slowly at night which gives a good start to the vines in the Spring.

Each variety is harvested manually and separately, then sorted in the cellar. The harvest is heated to 80°C (skins) and then cooled down to 20°C. Classic maceration occurs in cement tanks for 12 days. Pressing in pneumatic presses. Blending of the different varietals after malolactic fermentation. Ageing in Oak Foudres for 6 months.


ABOUT THIS PRODUCER


Château de Beaucastel is a magical place, surrounded by hills planted with vines, hundred-year-old olive trees and truffle oaks. Here nature is blooming, liberated and at ease. Ancient vines with knotted roots are nurtured in the traditional "gobelet" style in the soil typical of the region, laden with large round pebbles. When the Mistral blows - the legendary wind from the Alps - it whistles down
the Rhône Valley cooling the vines and revealing aromas of Garrigue. It has the Southern accent of those who live here at one with the Mediterranean climate. It's on these ancestral soils, supporting the 13 grape varieties of Châteauneuf-du-Pape, that each new vintage of Beaucastel is born.