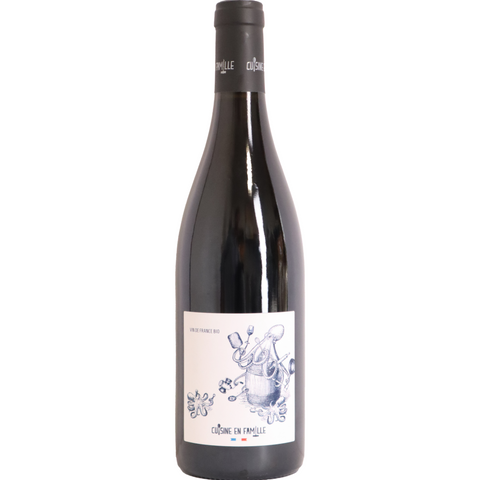 2021 Cuisine En Famille "Les Bras m'En Tombent" Vin de France Rouge, Rhone Valley, France
A traditional Rhône Valley blend, but one that underscores the delectably light freshness of Grenache and Cinsault grapes planted in sandy soils that's full of red fruit, herbes de Provence and a gentle spice undertone.
There are 7 units left in stock.
ABOUT THIS WINE
Our second vintage on this Cuisine en Famille cuvée, which is not a recipe site but blends of grape varieties from different French regions. Still grenache and cinsault but with a little more character than the previous vintage. Fruity, floral, simply crunchy.
ABOUT THIS PRODUCER

Cuisine en Famille is a story of two hearts… the story of Claire and Adrien.
They met at high school, did their further education together, split up (not for long), got back together, settled in their home villages, worked on their respective family estates, slipped a ring on each other's finger, and started a family.
It's the story of two vignerons in love, each with their own business, who one day decided (because they'd soon be turning 40!) to pursue their passion for wine hand in hand, and to share the values they hold dear…
Cuisine en Famille is thus a family-owned négociant – caring, natural and simple. It's like our grandmothers' kitchens, like big meals with friends, returning from Sunday market, get-togethers in the kitchen, the kids licking the spoon, laughter, mates turning up unannounced, the pressure cooker simmering on the range, occasions big and small.