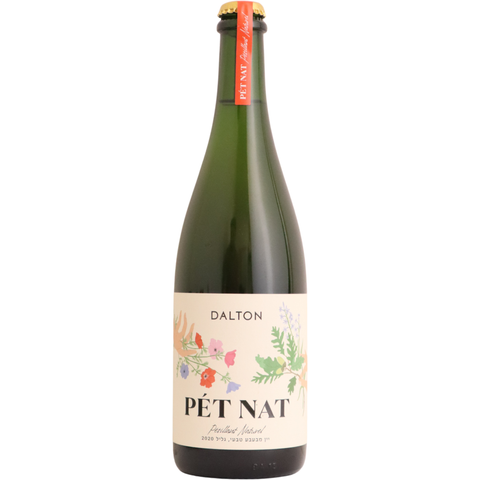 2020 Dalton Pétillant Naturel, Galilee, Israel
Light straw in color, this wine becomes slightly clouded shortly after pouring as its bubbles dissipate. It has a nose of apricot and toasted hazelnut that set the stage for mildly tart flavors of green apple and grapefruit, with a lemony finish.
ABOUT THIS WINE

Pét Nat is a blend of early harvested Semillon and some Muscat of Alexandria (about 9%). The Semillon began fermenting in tank and just before completion was blended with some sweeter muscat, transferred to bottle where it completed fermentation. The fermentation in the bottle causes the wine to be effervescent and also slightly cloudy.

KOSHER CERTIFIED
All Dalton wines are strictly Kosher Le Mehadrin and Kosher for Passover. They are under the supervision of the Merom Galil Rabbinate, Rabbi Yoseph Mishalil; Beit Din Yoreh Deya, Rabbi Shlomo Machpud; Rabbi Mordechai Ungar of Monsey New York and the Orthodox Union (OU).
This wine is Mevushal.
ABOUT THIS PRODUCER

Nestled in the heart of the Galilee, adjacent to the beautiful village of Kerem Ben Zimra, Dalton Winery is a gem that derives its excellence from the skills of its people and the natural gifts of its surroundings.
Established in 1995 by father and son Mat and Alex Haruni, the two identified the potential of the Upper Galilee, envisioning it as a premium wine producing region.
Bringing to the area international winemaking expertise and additional resources, their aim was to help make the region thrive, create new job opportunities and promote tourism.