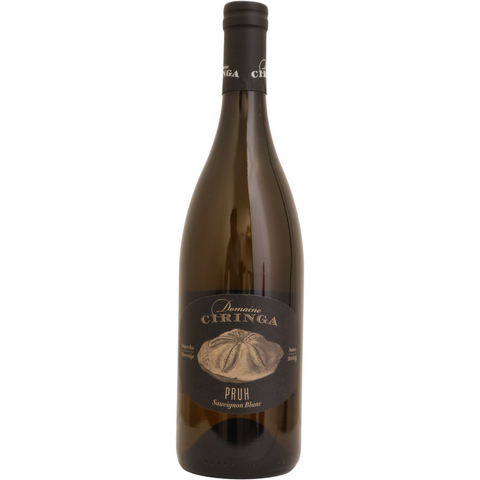 2018 Domaine Ciringa "Pruh" Sauvignon Blanc, Štajerska, Slovenia
Literally explodes on the nose, Cedri lemons, lime, honeydew melon, wild herbs and lots of deep, chalky minerality. On the palate, it grabs hold and doesn't let go, its minerality is impressive, the acidity precise and extremely invigorating.
ABOUT THIS WINE
Pruh is the flagship wine, a top, parcel selection of which only a single cask is bottled in years in which the wine has the right character. Pruh means "quarry", and the vines are growing in almost a pure limestone parcel.

Ried Ciringa – single parcel "Pruh" that's planted on pure limestone. Spontaneous fermentation, "sur lie" for 66 months in large, used oak barrels.
ABOUT THIS PRODUCER
With Domaine Ciringa, the focus is on one single vineyard Ried Ciringa, the Slovenian name for Ziereggand one grape variety, Sauvignon Blanc. The border between Slovenia and Austria runs directly through the vineyard. Ciringa is an incredibly steep and beautiful Grand Cru vineyard that the Tement family has farmed for three generations on the Austrian side. The name of the series of wines – Fosilni Breg (Fossil Mountain) references this place and geology… even the front label shows a fossil of a large, ancient sea star.
When Armin began working with his father in 2005, they agreed to start cultivating the vineyards organically, replanting sections of vineyards across the border—on the Slovenian side. The vineyard is a continuous, south and southwest-facing steep mountain hillside of pure 60-million-year-old limestone reef, formerly covered by the ancient Paratethys sea.

From the very beginning, the vineyards in Ciringa have been farmed organically and biodynamically but were certified organic in 2019 and Demeter and Respekt certified in the 2022 vintage. Most of the work is done by hand out of necessity – it is impossible to drive a tractor into many of the steeper sections of Ciringa. Yields here are quite low for Sauvignon Blanc and vine density is about 5,000 vines per hectare, which translates to one kilo per vine.