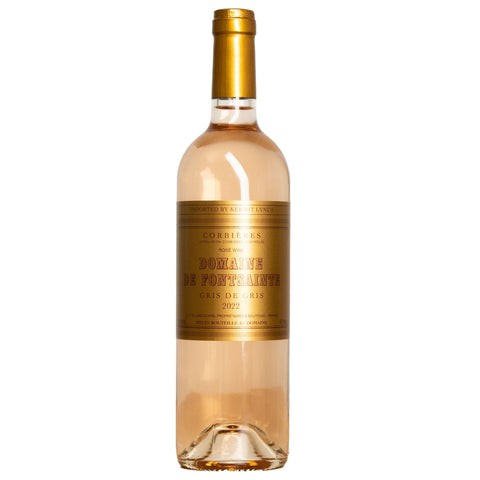 2022 Domaine de Fontsainte Corbières "Gris de Gris", Languedoc-Roussillon, France
A crystalline salmon color with superb amethyst tints. Expressive and particularly tonic, the wine immediately gives off notes of raspberry, cherry and freshly picked strawberries - followed by exotic aromas such as pineapple and mango.
ABOUT THIS WINE
A rosé bled from the vat. The grapes are harvested by hand and kept whole. After a natural settling of the juice for 24 hours, the alcoholic fermentation takes place at 18°C for 35 days. The malolactic fermentation is avoided and the wine rests for 1 month before bottling, preserving all the freshness and intensity of its aromas.
ABOUT THIS PRODUCER
Domaine de Fontsainte is in the heart of the Corbieres' celebrated 'Golden Crescent' - one of the appellation's most beautiful and beneficent terroirs. Fontsainte's intensely sunny, gently sloping, south south-east facing vineyards shelter from cold north-east winds on the flank of a 500-hectare pinewood massif. The domain dominates the landscape around the hamlet of Boutenac, enjoying panoramic views. Fontsainte's vineyards, just 90m in altitude, benefit from a pristine environment (far from industrial or urban developments) plus alternating Mediterranean and oceanic influences.
Roman artifacts found on the domain attest to Fontsainte's ancient origins: a Roman officer created the domain around a thermal spring. The name Fontsainte ('the saint's fount') comes from the nearby 12th century Hermitage of Saint-Simeon, who became the patron saint of Boutenac. Two chateaux dominated the landscape in the middle ages: Fort Haut and Fort Bas. Only the latter remains today - it's now the headquarters of the Corbieres' winegrowers syndicate.