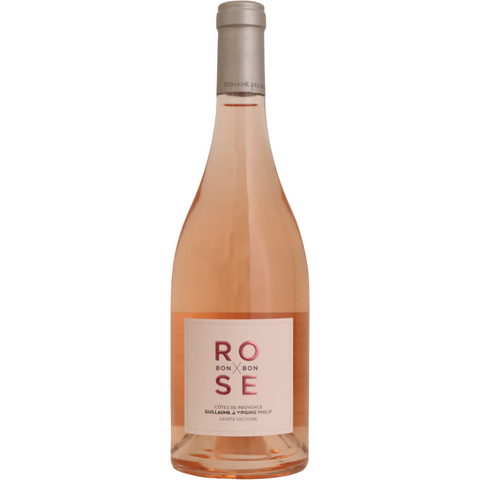 2021 Domaine des Diables "Bonbon" Rosé, Côtes de Provence, Provence, France
Wine with a candy pink robe and a highly delicate, pure and straightforward nose combining notes of red berries with the soil's minerality. Deliciously pleasant on the palate with a ripe fruits on the finish.
ABOUT THIS WINE
Cold maceration for three hours before fermentation. Pressing under oxygen-excluding conditions. Fermentation at low temperatures. Aged six months on fine lees.
ABOUT THIS PRODUCER
Virginie Fabre and Guillaume Philip arrived at the foot of Sainte-Victoire in 2005. Both graduates from the Montpellier wine school, where in the lecture theatres they also concocted their plan. It didn't take them long to implement their know-how in terms of both production and marketing, with the young couple creating, among other new products, the MiP brand – standing for Made in Provence - and marketing their wines with resolutely modern and well-designed packaging. Good in beauty, as it were.
In 2007 they harvested the first grapes on their estate, the famous "Domaine des Diables" established on this Puyloubier plain with the rich and stony soil which produces very aromatic quaffable rosés, fine and elegant whites and full-bodied, fruity reds. Since their first campaigns, Virginie Fabre and Guillaume Philip have seen their know-how and work rewarded with distinctions in competitions and wine guides.
In 2011, Le Domaine des Diables was awarded the Award for Excellence in the Concours Général Agricole competition. This prize rewards the consistency of the estate in the quality of its products by certifying in particular the respect of good production practices as well as the taste qualities. Today, the young couple is proud to be able to exhibit this trophy in their cellar, a trophy which has been awarded to them for nine consecutive years by the successive Ministers of Agriculture. A unique performance, at the high level of quality of their wines and in which they want to include their son Paul, who after just a few years on this earth is passionate and fascinated by what his parents do... Could he be the successor? Of course! The apple doesn't fall far from the tree.