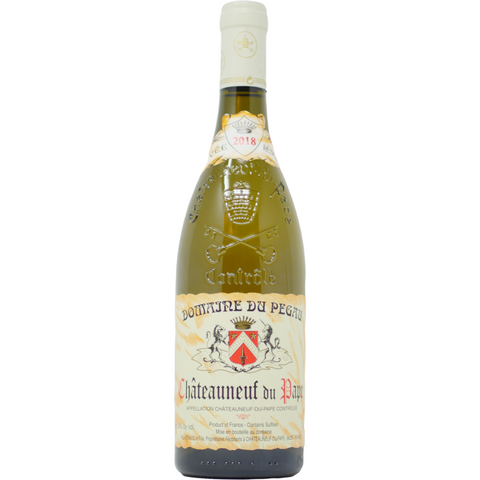 2021 Domaine Du Pégau Châteauneuf-du-Pape Blanc "Cuvée Réservée", Rhône Valley, France
Lively, fresh acidity and minerality. Nose of peach, citrus and white flowers like honeysuckle. With age, apricot and pear aromas. Serve with salmon, scallops, lobster and various shellfish... also sushi.
ABOUT THIS WINE:
Jointly with the Red Réservée Wine, the White Réservée Wine with notes of white flowers and tangy yellow fruits brings to life the traditional white wines from Châteauneuf du Pape. With a small production of only 4,000 bottles, the Cuvée Réservée White shows the freshness and acidity of Clairette blended with the character of the white Grenache.
ABOUT THIS PRODUCER:
Ancestors of father and daughter team Paul and Laurence Féraud farmed olives, cherries and grapes in Châteauneuf-du-Pape dating back to the 17th century. The methods established centuries ago carry on in the current vintages, creating robust, concentrated, traditional red and white wines. For many years the winery was known as Domaine Feraud fils and they made traditional Châteauneuf-du-Pape.
In 1987 Domaine du Pegau was formed as we know it today, when Laurence Feraud returned from her winemaking studies and she teamed up with her father Paul to create the winery. Complementing each other, they have conserved the authenticity and quality of their Châteauneuf-du-Pape whilst bringing it to the attention of wine lovers around the world. Domaine du Pegau is a staple on our shelves as a world-class, small production wine!