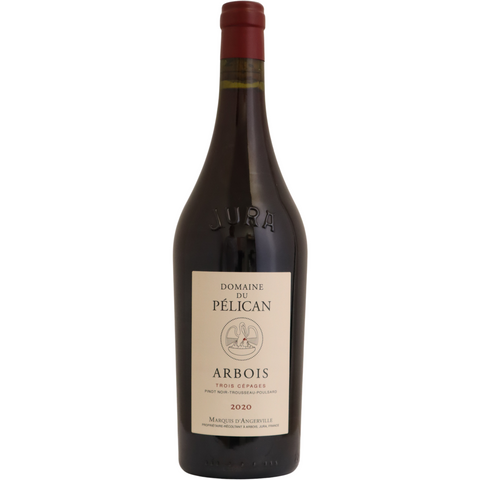 2021 Domaine du Pélican Arbois "Trois Cépages", Jura, France
This blend of Pinot Noir, Trousseau, and Poulsard is crisp and refreshing, marked by flavors of tart red fruit, cranberry, and fresh cut herbs. Serve slightly chilled!
There are 6 units left in stock.
ABOUT THIS WINE

The Trois Cepages, as the name suggests, is a blend of three grapes. It has been produced since the winery's inaugural vintage, in 2012. At the time, the decision was made to vinify all of their red grapes together, thereby creating this blend of Pinot Noir (60%), Trousseau (35%) and Poulsard (5%).
The vineyards for Trois Cepages are all located in the village of Montigny-les-Arsures. The geology of the soils are composed of predominatly grey and black marls, partially covered with fallen rocks. The vineyards broadly face West, at an altitude between 300 and 400 meters.
Elevage is in Burgundy barrels (50%) and foudre.
ABOUT THIS PRODUCER
The history and worldwide reputation of Burgundy and the Jura couldn't be more different. While Burgundy's vineyards have been carefully delineated over centuries and pricing has placed them atop the most collectible fine wines in the world, the Jura has remained quietly tucked in a sleepy corner of France an hours drive east. Jura certainly has its enthusiasts, but for the most part the wines have been sold in France. One evening at a Parisian restaurant a blind tasting of a single wine set in motion a series of events that may ultimately be the turning point for the Jura.

Guillaume D' Angerville, of the Domaine Marquis d' Angerville estate in Volnay, is at the helm of one of Burgundy's elite and storied estates, with roots dating back to 1507.

D' Angerville's arrival in the Jura was initially met with skepticism from the locals. A Burgundian coming in search of vineyards to purchase was not something those in the town of Arbois were thrilled about. There's a more insular feeling in the Jura where so many of the wines are kept local that outsiders, even from nearby, are met with a suspicious eye. However, Guillaume's true fondness for the wines and the history of the small region revealed itself quickly. He made it clear his goal was to bring a worldwide awareness to the great, and incredibly unique wines of the Jura.

Several properties were subsequently purchased, and organic and biodynamic viticulture was implemented immediately. Included were the famed holdings of Jacques Puffeney, who had recently retired. And with the 2012 vintage the wines of Domaine du Pélican were released, the name deriving from the pelican that graces the crest of town of Arbois. Something tells me that Parisian sommelier enjoys recounting this story quite a bit each time a guest orders the Pélican wines.