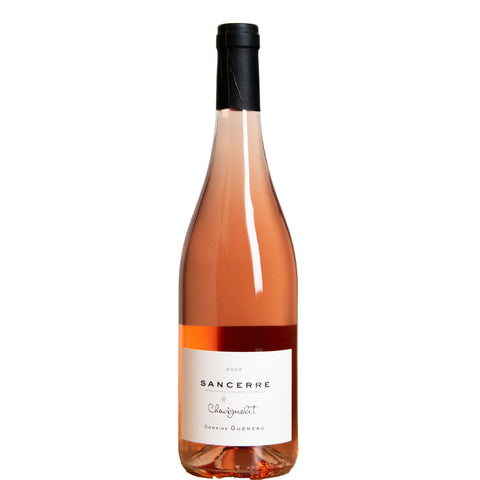 2022 Domaine Gueneau Sancerre Rosé "Chavignolet", Loire Valley, France
Aromas of pear, apple, and red berries. On the palate, the wine is very soft and round with well-integrated minerality and flavors of wild red fruits and nice sweet notes. 
ABOUT THIS WINE
Elisa Gueneau's very limited production rosé is a standout in Sancerre for the way it so clearly reflects both the terroir and the more delicate qualities of Pinot Noir. Rose petal, strawberry, and citrus aromas carry over to the soft palate, enhanced by a nervy zip and a crack of chalky soil on their way to a notably long finish redolent of red fruit and sweet flowers.
The vines are pruned in single Guyot style. 35 year old vines growing on sustainably farmed stony soils with decomposed limestone broken into pebbles. 100% Pinot Noir and aged on its lees for 5 months in stainless steel tanks. Drink within the next 3 years by itself or with light fare.
ABOUT THIS PRODUCER
The estate is comprised of 35 acres of vineyards planted on the rather steep slopes that surround the villages of Sury-en-Vaux, Chavignol and Sancerre. 80% of the vines are planted in the calcareous clay soils known locally as "terres blanches," which give the wine its body, richness and complexity. The other 20% are planted in stony soils that lend lovely fruity notes to the wine. Sauvignon Blanc represents 75% of the production with the rest planted to Pinot Noir. All is done with an environmentally responsible approach to preserve this terroir, an irreplaceable source of such flavorful wines. Working the land, taking care of the soil… daily Elisa strives to find the balance between the vines' needs and respect of the terroir which has been so generously given to us by Mother Nature. A well-thought-out approach is her priority! She observes her plots throughout the year to care for them as best possible. To respect nature and the environment, she keeps grass between her rows of vines and she works the soil around the base of the vines. We love seeing more women take the helm in the world of winemaking, and this father-daughter duo created beautifully expressive wines worth checking out!