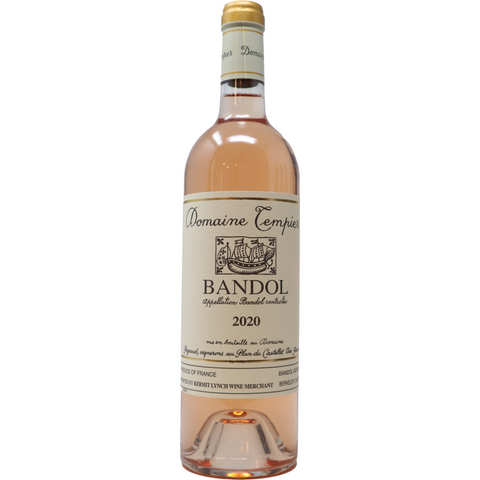 2022 Domaine Tempier Bandol Rose, Provence, France
The wine shows floral and fruit-driven flavors of strawberry, peach, and pomegranate, which are harmoniously woven together by citrus-driven acidity. For lovers of food-friendly, ageworthy, and downright delicious rosés, we can't think of a better bottle.
ABOUT THIS WINE:
Pellicular maceration or direct pressing, then the juice is allowed to settle at a low temperature. Fermentation in stainless steel or concrete vats.
Aged
6 – 8 months before being bottled.
ABOUT THIS PRODUCER:
When Lucie "Lulu" Tempier married Lucien Peyraud in 1936, her father gave them Domaine Tempier, an active farm that had been in the family since 1834, near Le Plan du Castellet, just outside the Mediterranean seaport village of Bandol. Tasting a pre-phylloxera bottle of Domaine Tempier Bandol (a wedding gift from his father-in-law) inspired Lucien to research the terroir of Bandol extensively. Up until that point, old vineyards planted with Mourvèdre had been systematically replanted to higher-yielding varietals. However, more research not only showed its historical roots to the area, but the grape proved to be more resistant to oxidation, producing wines with great aging potential. By 1941, with the assistance of neighboring vignerons, Lucien worked with the I.N.A.O. (Institut National des Appellations d'Origines) to establish Bandol as its own A.O.C. Needless to say, large-scale replanting of Mourvèdre ensued, and Bandol now requires a fifty percent minimum in all reds. Lucien will forever be celebrated as the Godfather of Bandol, but also as the man who revived Mourvèdre to its former glory. Raising deep and structured wines of such refinement and longevity has made Domaine Tempier truly a grand cru de Provence.
Lulu and Lucien raised seven children, and nourishing family, friends, and wine lovers at table is a regularly celebrated tradition at the domaine. Much of that is attributed to Lulu, the beautiful, Marseillaise materfamilias who has carried on the great Tempier family ritual of serving guests fresh, cool rosé, hearty, soulful reds, and copious amounts of delicious homemade Provençal cuisine. Her traditional hearth cooking has attracted attention throughout France, even bringing Alice Waters over from California to learn in Lulu's kitchen. When Lucien retired, sons François and Jean-Marie shared management of the domaine with François in the vineyards and Jean-Marie in the cellars. The two made a formidable team. Though Lucien passed away in 1996, and his sons have now since retired, the torch has been passed to the young, energetic, and talented Daniel Ravier, who has just the right savoir faire to carry on the great tradition and style of the domaine.