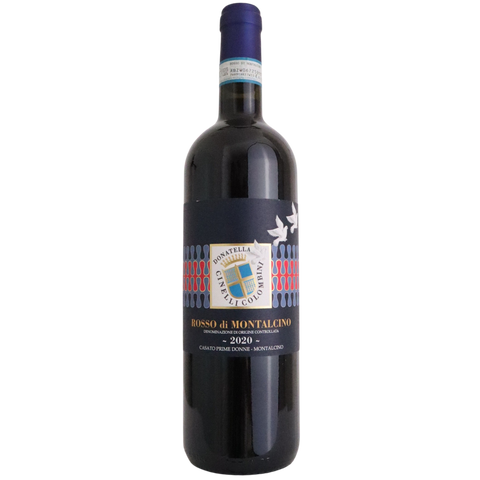 2020 Donatella Cinelli Colombini Rosso Di Montalcino, Tuscany, Italy
Intense and brilliant ruby red. Aromas are fine, rich and well-expressed notes of small red berries, spices and dark flowers such as violets. The palate is full, harmonious, and pleasant with tannins that are silky and well balanced by rich fruit.
ABOUT THIS WINE
This is Brunello's younger and smiley brother, obtained from the same Sangiovese grapes and the same Montalcino area but destined to be consumed sooner.

Montalcino, the land where Sangiovese expresses itself best in the whole world and where wines that can last centuries are born, can also produce a great young red wine. This seems a contradiction but it is not. It demonstrates the expertise of the grape growers in this territory. In fact the characteristics of the future wines comes from the clusters; grapes destined to become Brunello or Rosso di Montalcino are cultivated for this destiny right from birth. Poorer soils for the first and more fertile ones for the second. Less clusters for the first, slightly more for the latter. Most of all during harvest the specific characters of both must be made evident, choosing with care the harvest date and vinifying in the most delicate way
Serve this wine in a Bordeaux or Burgundy glass at 60-64 degrees F. This wine can age 3-4 years after bottling, but made to drink before 5 years. This is a perfect wine for the table and is very versatile, apt for important first courses, roasts, tasty cheeses and cold cuts. The harmonious and graceful power of this wine requires food that is intense in taste but not too fatty or greasy.
ABOUT THIS PRODUCER

Donatella Cinelli Colombini dreams of going back to the original style of Brunello, that that she discovered as a child in the wines made by her Grandfather Giovanni, one of the pioneers in the Montalcino denomination. Elegant wines, that are vertical, fresh and with a strong territorial imprint as well as the ability to be cellared for a long time. The project "original style" began in 2011 through a return to manual labour and old traditions, like the use of concrete tanks for fermentation.
Donatella is very connected to traditions and does not forget that Casato Prime Donne already belonged to her ancestors more than 400 years ago.
Brunello di Montalcino Riserva by Donatella Cinelli Colombini is produced from Sangiovese grapes from Casato Prime Donne, a property of about 40 hectares with 17 of vineyard, situates on the northern slope of Montalcino. This is the cooler area of the Brunello territory where the ripening are slower and more regular thanks also to the soils that are not very fertile and that give wines characterized by high sensorial intensity and floral and fruit notes.
Brunello is produced only in great vintages when the climate creates small and loose clusters with small berries that are perfectly ripe.