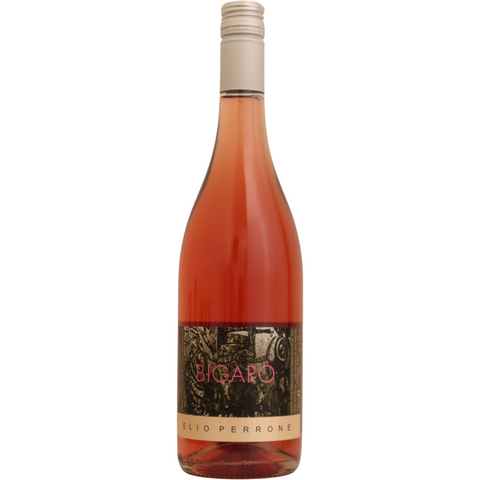 2021 Elio Perrone "Bigaro" Rose, Piedmont, Italy
Elio Perrone makes this unique blend of Mosacato d' Asti and Brachetto d' Acqui which is delicate, delicious & perfectly balanced. Wonderfully intense, with notes of ripe raspberry, peaches & rose petals. Slightly sweet & sparkling!
ABOUT THIS WINE
50% ratio Brachetto and Muscat mix but varies year by year, depending on grapes characteristics.
Vineyards are located in the hills of Agliano d'Asti and Nizza Monferrato. Harvest occurs between the first and the second week of September, manually and selecting grapes bunches.
Grapes are softly crushed, in order to preserve all fragrances; must macerates with pomace for 4-5 days to extract all the color and the aromatic patrimony. After destemming, fermentation is carried out at low temperature in autoclave. Bottling by isobaric filling.
ABOUT THIS PRODUCER

The Perrone family produces Muscat Hills Castigline Tinella since the end of 1800; four generations of winemakers are behind this dynamic company that since 1989 is led by Stefano Perrone, with the precise objective of the qualitative selection in the vineyard and in the winery rigor productive.
Today, in the modern winery located right at the edge of one of the company's most prestigious vineyards, the "Sourgal", Muscat grapes, which make up most of the production, are fermented for single vineyard, with all the care and support that these technological precious fruits require. Similarly they are processed Chardonnay, Barbera and other small minor productions, all from our own vineyards, which give rise to other wine business.
The total area of ​​the company now covers 11 hectares of vineyards, all planted in the hills, in ideal conditions of sunshine, at an altitude of 360 m above sea level and followed up with careful monitoring and selective production.