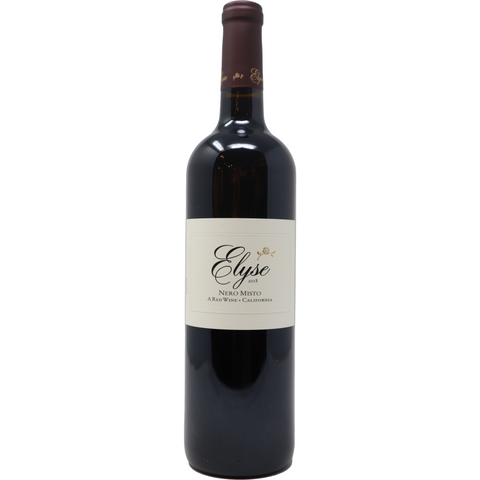 2018 Elyse 'Nero Misto', California, USA
Dark purple in color with aromas of strawberries, cracked black pepper and grilled figs, this is a serious red wine. Notes of plum, blood orange, and caramel-chocolate flavors and an amazing balance of fruit, tannin and acidity.

ABOUT THIS WINE:
A combination of unique vineyard sites, each parcel adds to the layers of this wine and its polished, approachable character. Spanning three appellations of Northern California, this wine is proof that sometimes the sum is greater than its parts.
ABOUT THIS PRODUCER:
In 1983, Nancy and Ray Coursen arrived in California from Cape Cod to fulfill Ray's dream of making wine and Nancy's taste for adventure. After working harvest at Mt. Eden Winery in Saratoga, they moved to Napa Valley and became innkeepers for a bed and breakfast. Ray then spent formative time at Tonella Vineyard Management, where he gained philosophical perspective and practical knowledge working in the vineyards. Ray's nine year tenure at Whitehall Lane Winery under the tutelage of Art Finkelstein, first as a cellar worker and then as head winemaker, honed his skills in the art of blending and was the inspiration for Ray's winemaking style. The year 1986 saw the arrival of a daughter, Elyse Sarah.
In 1987, Ray and Nancy started the Elyse brand with 286 cases of Zinfandel from the Morisoli Vineyard , which is still a cornerstone vineyard source for the winery. After a decade of nomadic winemaking at various custom crush facilities, in 1997 they purchased a small winery and vineyard on Hoffman Lane, the home of Elyse Winery and tasting room. Since then, Elyse has blossomed into a portfolio of Zinfandel, Cabernet Sauvignon, and Petite Sirah focused on pure expression of fruit with a sense of place. For the next twenty years Elyse would become the launching pad for countless Napa Valley wine lovers to explore some of regions most celebrated vineyards.
After thirty years of stewardship, Ray and Nancy decided that it was time to retire. What began as a casual conversation over dinner evolved into the next chapter for Elyse Winery. In October 2018, Ray and Nancy Coursen sold Elyse Winery to fellow Yountville locals, Josh Peeples, and his partner, Cheryl. Perfect timing for both parties, the torch has been passed to continue the same passion for the decades to come. In addition, Josh brings his other brands Addax, Standard Deviation, and Institution to the Elyse family of wines.