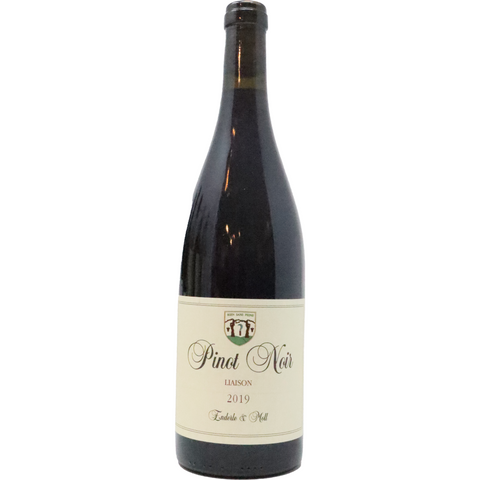 2019 Enderle & Moll Pinot Noir 'Liaison', Baden, Germany
The 2019 Enderle & Molls are a return to a more classic, finessed Pinot Noir. From strawberry and raspberry all the way to dark, earthy crushed berry and cassis. The palate shows its minerality alongside super-fine tannins.
ABOUT THIS WINE
"Liason" is something like the "1er Cru" bottling for Enderle & Moll. It is sourced from 40-50-year-old vines planted both in limestone and sandstone; a "liaison" of soil types if you will. It is always one of the most compelling Pinots out there, an absurd value that easily out-classes wines that are twice the price.

Pressed in a small basket press. Maceration lasts 4-6 weeks for red wines and up to 2 weeks for white wines. For vintage 2017 there was 90-100% whole cluster fermentations for the reds. The white wines are destemmed and normally see some skin contact, 2-3 days for the basic 'Müller' and up to 2 weeks for the Grauburgunder and Weisßburgunder. All fermentations are with natural yeasts – no yeasts, yeast nutrients or enzymes are added, ever. Most wines are fermented in 300 to 1,500 liter tanks/barrels. The reds are fermented in one-year-old barrels from Burgundy. Enderle & Moll uses them for 2-5 years before retiring them. Minimal use of sulfur (25-40mg/l) at bottling only; all wines are bottled without fining or filtering.
ABOUT THIS PRODUCER

This estate is really just two guys, a tiny cellar, a few hectares of old vines and a hell of a lot of buzz – even Jancis Robinson has called them "cult." Farming some of the oldest vines in Baden, Sven Enderle and Florian Moll craft complex, earthy and superbly detailed Pinot Noirs that will completely redefine how you view German reds, to say nothing of their stunningly textural yet buoyant and defined skin-contact white wines. They are one of the first German red wine producers to emphasize lightness, transparency, finesse. They are the benchmark producer for natural, Burgundy-esque German Pinot Noir, period, end. The white wines, though a small part of their production, are revelations in skin-contact whites; transparent and energetic. Farming is organic/biodynamic, no additives, no filters, minimal sulfur.