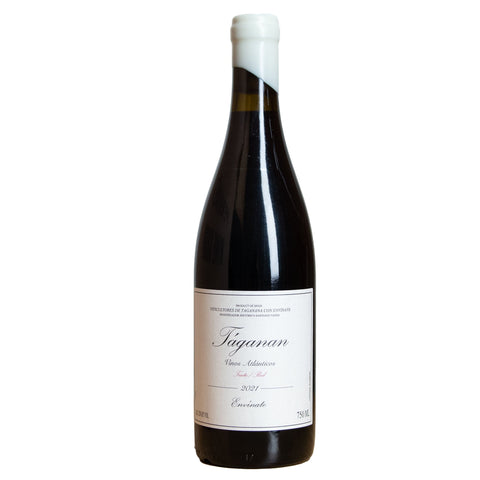 2021 Envinate Taganan Tinto, Canary Islands, Spain
A medium bodied wine with notes of earth, tart raspberries, herbs, and a touch of pepper.
There are 4 units left in stock.
ABOUT THIS WINE
The old local name for the vineyard area located on the northeast side of Tenerife. In this area, the vineyards are planted "wild" on primary volcanic rock, on cliffs just above the Atlantic Ocean. The vineyards are very old and are mix planted with many different native grape varieties. Due to the rugged and difficult terrain, all farming has to be done by hand, and harvest is usually performed with the help of animals in order to be able to transport the grapes. A field blend of (mostly) red grapes, including Listán Negro, Listán Gaucho, Malvasia Negra and Negramoll, growing on very old vines (50-150 years old) and aged in neutral oak. 
ABOUT THIS PRODUCER

Envínate ("wine yourself") is the brainchild of Laura Ramos, Jose Martínez, Roberto Santana and Alfonso Torrente, four friends who met while studying winegrowing at the University of Miguel Hernández in Alicante. Their work, both in the vineyard and winery, is currently focused on exploring the ancient, Atlantic-infused terruños of Ribeira Sacra and the Canary Islands, as well as exceptional vineyard plots across the Iberian Peninsula. The Envínate philosophy is simple: let each parcela, or single parcel, fully express itself in the finished wine by utilizing old-fashioned farming and winemaking methods. The results are some of the most exciting wines being produced in Spain today. Lousa is the name for the slate soil that predominates in the Ribeira do Sil and Amandi subzones of the Ribeira Sacra region. The slate serves a great purpose, heating up during the daytime sun to help the grapes ripen, as well as imparting the minerality and intensely floral and spicy aromatics that are the trademarks of the Ribeira Sacra region's wines. Aldea means "village" in the Galician dialect. In addition to focusing on single parcel wines, Envínate produces village wines in each region where they work.