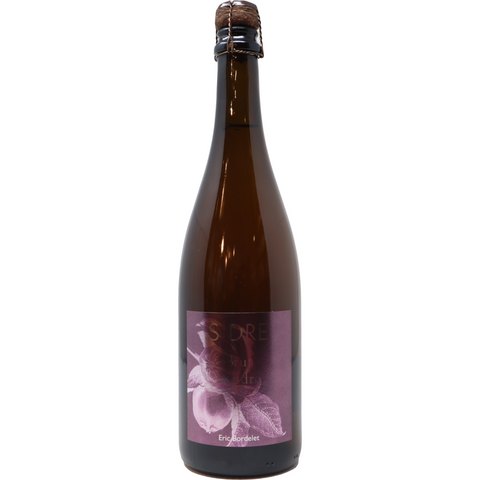 2019 Eric Bordelet "Sidre" Brut Tendre, Normandy, France
Semi-dry cider with a good balance of fruit and substance. It is a good middle ground between raw and tender cider with no residual sugar. Can accompany an entire meal.
In 1992, Eric Bordelet, a sommelier who trained in some of Paris' top restaurants, returned to southern Normandy to take over his family's estate and orchards. With the encouragement of his close friend, the iconic vigneron Didier Dageneau of Pouilly-sur-Loire, he began producing artisanal ciders from apples and pears—ciders without equal that draw closer comparisons to fine, vintage wine than to beer. Over the years, he has revolutionized the cider industry by bringing it into restaurants, high-end wine shops and export markets around the world. He uses the old French spelling for cider,"Sydre" and "Sidre," to name his bottlings.
At the core of Eric's estate are three hectares of ancient, heirloom varietals of apple and pear trees that are 40-50 years old. In 1992, he began planting seven hectares of young apple trees and five hectares of pear trees, which are now in full production. He plants only pure varietal trees (non-hybrids), which are balanced between sweet, bitter and sour taste profiles. These are essential for producing ciders of character. Currently, he works with 20 varieties of apples and 14 types of pears—a true master of his craft who is eager to revive the less well-known varieties. Situated on schist and granite bedrock with silt and clay soil, he farms his orchards organically and biodynamically, which Eric believes produces the best fruit for ciders. He received official organic certification in 1996. While most of his orchards are free-standing, he chooses to trellis some of his pears.
Despite the incredible acreage of his orchards, Eric's entire production of fruit is hand-picked, or rather picked-up, and put in wooden cases. The fruit is left in a drafty cellar to dehydrate for three to five weeks, after which time it is pressed. (The exception to this is the apples destined for the cuvée "Argelette" which are crushed and left to macerate on their skins for more extraction.) After pressing, fermentation begins, and the must is racked several times to both clarify the juice and slow down the process, and is then lightly filtered. The ciders are then bottled during this fermentation with varying amounts of residual sugar depending on the cuvée, without any chaptalization, to reach a final alcohol level in between three and four percent. The entire production of mousse in the bottle is derived from the primary fermentation and the delicate bottling process. And if the outstanding quality is not enough, some of Eric's ciders also stand the test of time, making them ideal for aging . . . magic that only a former sommelier could make happen!