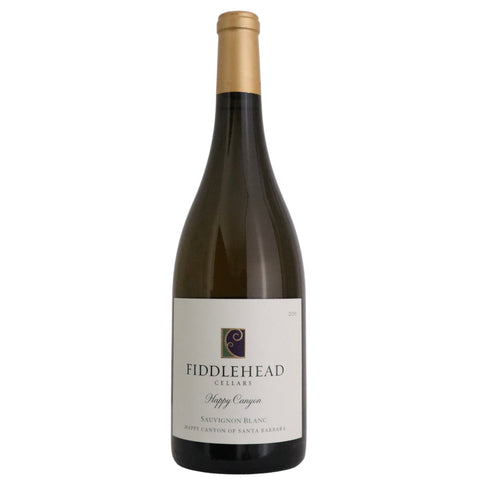 2016 Fiddlehead Cellars 'Happy Canyon' Sauvignon Blanc, Santa Ynez Valley, California, USA
A graceful aromatic medley of thyme, clove and a touch of vanilla, together with hints of zesty lime, white peaches, and unlying mineral-driven salinity from the gravely loam soils of the two vineyards.
ABOUT THIS WINE
We blended two of our esteemed vineyards in Happy Canyon: 66% McGinley Vineyardsolely clone 1- which contributes citrus and tropical fruit notes, and 34% Vogelzang Vineyard which adds spicy charm and flowery complexity from its two clones- Musque Clone (19%) and Clone 1 (81%).

Hand-harvested whole clusters are gently pressed to preserve freshness and delicacy. Showcasing the art of the blend, this supple yet elegantly styled wine highlights our specialized approach: 41% fermented in new French oak for understated richness and aromatic signatures, 40% in neutral French oak barrels for depth and mid-palate expansion, and the remainder in stainless steel to highlight varietal aromatics and vibrant liveliness. Aged sur lie in 100% Damy French oak for 10 months.

ABOUT THIS PRODUCER

Kathy Joseph established Fiddlehead Cellars in 1989 to capture the pure essence of two distinguished grape varietals – Sauvignon Blanc and Pinot Noir. Her quest was simple. Besides a lesser important desire to satisfy her own palate, her intent was to incorporate European beauty into these domestically grown varietals by working with grapes grown in the right place and wines managed with respect in the cellar. Both varietals are celebrated for their successful old world pedigree; both have the potential to convey sensory elegance; both have proven to gratify a broad range of discriminating palates.

Today, Kathy is recognized as a pioneer among women winemakers as she passionately and enthusiastically creates stylistic Sauvignon Blanc and silky, textural Pinot Noir. At Fiddlehead, she annually produces about 5,000 cases of wine, with personal interest in each grape cluster, each barrel of wine and every bottle that finds its way to your table. The wines are made at FiddleHeadquarters, her Winery in the Lompoc "Wine Ghetto", and Kathy lives in a little farm house on the Estate Vineyard, Fiddlestix. Kathy stays connected to other important grape growing regions by maintaining a business office in Davis, CA – her administrative and marketing base, and home during non-farming activities. She takes great pride in connecting a broad range of contributing forces to create eloquence in her wines.