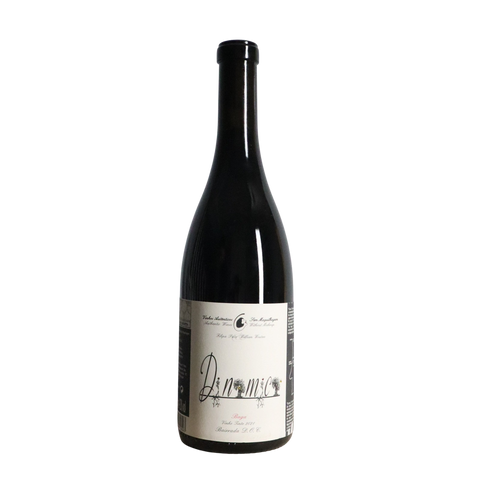 2022 Filipa Pato "D.N.M.C. Dinamica" Tinto, Bairrada, Portugal
"D.N.M.C "philosophy is that Baga from different locations gives a more complex wine. Each location has its own expression of the grape. Every plot is vinified separately and at the end all are assembled into one balanced unique "cuvée
ABOUT THIS WINE
100% Baga sourced partially from Filipa and William's estate vineyards in Ois do Bairro, and partially from other growers in various villages in Bairrada. Handpicked, fully destemmed, and fermented and raised entirely in tank with a very gentle extraction.
ABOUT THIS PRODUCER

Filipa Pato and William Wouters is a magical wife and husband collaboration. Their philosophy is simple: create authentic wines without make-up and express the true nature of the vineyards from which they come. They focus on indigenous grapes only. Baga, Bical, Arinto, Cercial and Maria Gomes create soulful wines from vineyard sites with soils, microclimats and aspect ideal for growing their exquisite wine grapes with biodynamic viticultural practices. In the winery, they gently handle the grapes, minimal intervention and strict monitoring of the wine allow their grapes to express themselves fully.
Ultimately they create "terroir" wines by uniting knowledge, art and nature to produce wines "without make-up". Each wine with its own character!

Filipa Pato - winegrower in Bairrada. A graduate of the University of Coimbra as a Chemical engineer refined her Winemaker skills doing harvests in Bordeaux, France - Mendoza, Argentina and Margaret River, Australia and with her father Luis Pato, the Baga rebel.

William Wouters - chef/sommelier/restaurateur. William comes from a restaurateur family from Antwerp, Belgium. He is a sommelier champion, restaurateur and former head chef of the Belgian national Soccer team on the World cup in Brazil and the European cup in France.

Together Filipa & William share all their experiences: the love for food and wine, encounters with great wine growers, sommeliers and wine lovers from all over the world and the magical, inexhaustible culture of the World of wine. Today for Filipa & William, Ois do Bairro is the center of their wine universe. They will be happy to share all their passion of food and wine.