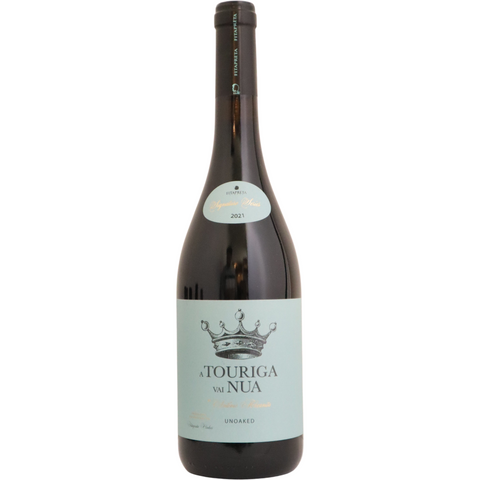 2021 Fitapreta Touriga "Vai Nua", Alentejano, Portugal
The lush fruit profile pairs very well with roasted and grilled meats, but the low alcohol levels and lack of oak tannin make it a fine pair for lighter fare like charcuterie and cheese but also fun with strong flavors, like in southeast Asian fare.

ABOUT THIS WINE
100% Touriga Naçional. Sustainably grown vines on average 30 years old. Tended in schist rocky soil at 300-400 m (984 -1,312 ft) elevation.
30 day maceration with spontaneous wild yeast fermentation. Cold stabilized, and racked to stainless steel for 3 months. Bottled unfined and unfiltered.
ABOUT THIS PRODUCER

Fitapreta is the culmination of a partnership between a young, dynamic Portuguese winemaker and a British-born viticulturist, dedicated to a new examination of terroir in the Alentejo. The winemaker Antonio Macanita returned home to his native Portugal after winemaking stints in Napa, Australia and France, most notably Ch. Lynch Bages. David Booth, the viticulturist, was already well established in Portugal when they began work together in 2004. Fitapreta operates on the Portuguese idea of "Palpite" or intuition when it comes to their viticulture and winemaking. With this trust of the land and the natural growth process of the vineyard, Antonio Macanita is able to make wines that are imbued with a singular sense of place. This winery operates on a strictly gravity-fed basis to avoid any harsh treatment of the must. All wines are spontaneously fermented with indigenous yeasts. Small parcels of each vineyard are fermented separately to preserve distinct stylistic qualities. These are then blended to achieve a layered, complete picture of the terroir.
The Alentejo is a large region in southeastern central Portugal, which is one of the agricultural centers of the country. The climate is Atlantic-Mediterranean, with significant diurnal-nocturnal temperature differences. This temperature range produces fruit with a natural combination of maturity and freshness. The Alentejo sees 3,000 hours of annual sunshine and 600mm of annual rainfall, less than 15% of which falls during the growing season. These vineyards are planted to rocky schist at 300-400m elevation.