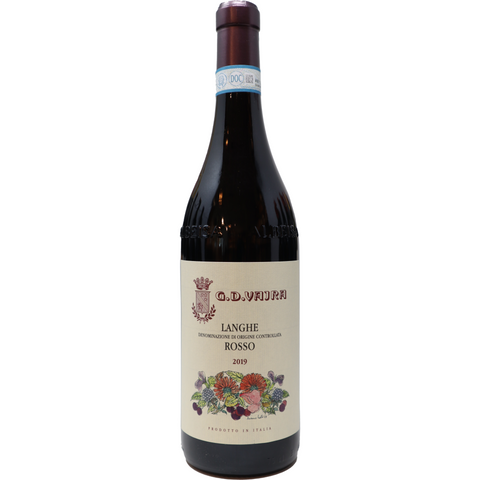 2020 G.D. Vajra Langhe Rosso, Piedmont, Italy
This blend sings of fresh cherries, strawberry and raspberry, with an enticing underlying earthiness. This outstanding light colored red should be served with a slight chill and enjoyed with pizza, light pasta dishes, hors d'oeuvres or all on its own.
ABOUT THIS WINE
G.D. Vajra's Rosso is aged in stainless steel tanks, with some exposure to neutral oak, for 14-16 months.
ABOUT THIS PRODUCER
The Vajra family has farmed Bricco delle Viole, the highest cru in Comune di Barolo, since the 1880s. At the young age of fifteen, Aldo Vajra embraced the dream to revive his family legacy. Displaying a vision and commitment belying his young age he took over the estate in 1968, turning a new page. Aldo soon acquired the first organic certification of the region (1971), created private biotype selections of Nebbiolo and Dolcetto, pioneered the renaissance of Freisa, a noble yet forgotten local grape (1980) and the cultivation of Rhine Riesling in Piemonte (1985). ­

Today, the family has 40 Ha under vine. The estate is steeped in tradition. Their Barolo are macerated for 20 to 30 days depending on the vintage. Wines are typically matured in large neutral Slavonian casks. The holdings in Bricco delle Viole are the prized vineyards of the estate, planted in 1949 by Aldo's grandfather. It's a very fresh terroir with open exposure and breezy conditions. Holdings in Barolo commune are: Fossati, Coste de Vergne and La Volta. Recently acquired vineyards in the commune of Sino (just outside Barolo DOCG, next to Serralunga) make a gorgeous Langhe Nebbiolo.

High elevation vineyards are a unique factor to Vajra wines, allowing them to express finesse and remarkable complexity over simple power. Attention to detail and humility toward nature, uncompromised efforts and humanity, these are the ideals of the Vajra family: Aldo and Milena, now joined by their children Giuseppe, Francesca and Isidoro, and by an amazing team of young professionals. G.D. Vajra is an independent winery, entirely family-owned.