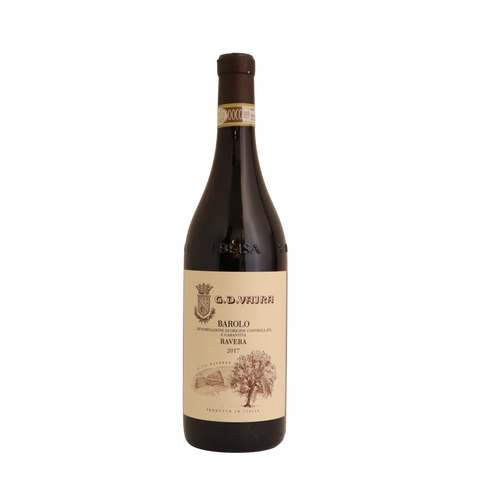 2018 G.D. Vajra "Ravera" Barolo, Piedmont, Italy
An intricacy of cherry, rose petals, baked raspberry alongside with orange peel, cedar, and herbal whiffles of mint, lavender, thyme, oolong tea. The palate is characterized by a zing of iron tones with silky tannins and a profoundly long finish.
There are 2 units left in stock.
ABOUT THIS WINE
The 2017 Barolos are profound and characterized by a core of red fruits, acid spine and refined tannins that set the wines for the long haul. In Europe, this was recorded as the lowest yielding vintage since 1947, due to a combination of spring frost and summer droughts. The outcome is surprising, due to the combination of limited intake of potassium in the fruit and cool nights throughout the season, with an almost perfect September. After a mild winter with little snow and an anticipated vegetative development, temperatures bru- tally dropped between April 19th and 21st, with frost across Europe that luckily spared our vineyards. Starting in May, the weather turned stable. Days were hot but the nights cooler than in 2003 and 2011. The strong diurnal drop of temperature preserved the vines from water stress, despite little or no rainfalls. By early September, night temperatures dropped even further, enhancing phenolic ripening while slowing down sugar accumulation. Average time between bud break and ripening was 185 days. According to the Consorzio Langhe, 'hot' vintages last 170 days and 'late' vintages 200 days.
In 2017, Ravera was harvested over two days, on September 28th and 30th. Grapes are sorted manually three times: directly on the vine, as whole clusters on the sorting tables, and lastly as single berries. Vinification was carried in custom-designed vertical tini, with gentle punch down and rinsing of the cap. It lasted 56 days including submerged cap. Spontaneous malolactic fermentation took place in the following Spring.
The 2017 Barolo Ravera aged for 25 months in large Slavonian casks of 25 and 50hL. It was bottled on July 14th 2020.

ABOUT THIS PRODUCER

The Vajra family has farmed Bricco delle Viole, the highest cru in Comune di Barolo, since the 1880s. At the young age of fifteen, Aldo Vajra embraced the dream to revive his family legacy. Displaying a vision and commitment belying his young age he took over the estate in 1968, turning a new page. Aldo soon acquired the first organic certification of the region (1971), created private biotype selections (selezioni massali) of Nebbiolo and Dolcetto, pioneered the renaissance of Freisa, a noble yet forgotten local grape (1980) and the cultivation of Rhine Riesling in Piemonte (1985).

Today, the family has 40 Ha under vine. The estate is steeped in tradition. Barolos are macerated for 20 to 30 days depending on the vintage. Wines are typically matured in large neutral Slavonian casks. The holdings in Bricco delle Viole are the prized vineyards of the estate, planted in 1949 by Aldo's grandfather. It's a very fresh terroir with open exposure and breezy conditions. Holdings in Barolo commune are: Fossati, Coste de Vergne and La Volta. Recently acquired vineyards in the commune of Sino (just outside Barolo DOCG, next to Serralunga) make a gorgeous Langhe Nebbiolo.

High elevation vineyards are a unique factor to Vajra wines, allowing them to express finesse and remarkable complexity over simple power. Attention to detail and humility toward nature, uncompromised efforts and humanity, these are the ideals of the Vajra family: Aldo and Milena, now joined by their children Giuseppe, Francesca and Isidoro, and by an amazing team of young professionals. G.D. Vajra is an independent winery, entirely family-owned.