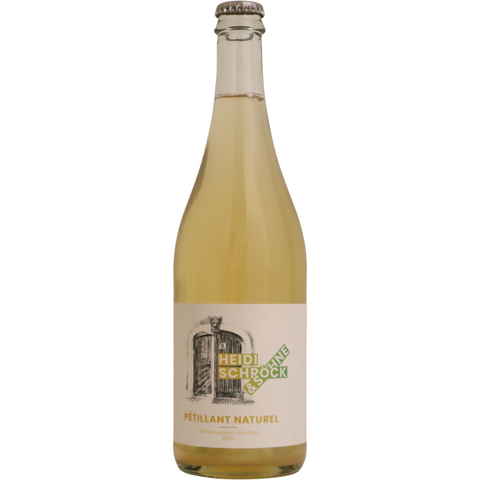 2020 Heidi Schröck & Söhne Pinot Blanc Pét Nat, Burgenland, Austria
Dry, with gorgeous body and nuance. With wet limestone minerality, an orchard apple and a delicate fizz, its a real treat for fans of nervy, geeky, refreshing bubbles! Shellfish, richer fish dishes, mild and creamy cheeses and Bánh mì make nice pairings.
ABOUT THIS WINE
This sparkling Pet Nat is 100% organically farmed Pinot Blanc from loam and limestone vineyards. The grapes are skin fermented with native yeasts for 3 days in stainless steel before racking into a large used oak cask. No SO2 during harvest or fermentation.
ABOUT THIS PRODUCER
Heidi Schröck took over her family winery in 1983, in the historic village of Rust situated in the province of Burgenland about 5 miles from the Hungarian border. As Heidi explains "South-facing vineyards in a softly rolling landscape form an amphitheater around Rust on Lake Neusiedl bringing forth some of the best and most tradition-rich wines in Austria. Yearly hours of sunshine that lie much higher than the Austrian average combined with sandy soils mixed with clay and high calcium content provide the ideal prerequisites for impressive, full-bodied wines."
In 2003 Heidi was awarded "Falstaff Vintner of the Year", making her one of only a handful of women to obtain this distinction. She re-introduced historic varietals such as muscat-lunel and furmint from Hungary while continuing to work with more classic Austrian varietals such as Grauburgunder, Weissburgunder, and Welschriesling. Heidi is the long-time leader of Cercle Ruster Ausbruch, an organization whose goal is to bring back Ausbruch, a sweet wine reminiscent of Hungary's Royal Tokaji that had not existed since the phylloxera outbreak in the 19th century. Ausbruch is harvested from botrytized grapes with a must weight between BA and TBA (138 Oechsle) and Heidi's wine is one of Rust's iconic examples of this noble sweet wine.
Heidi is now joined by her twin sons, Johannes and Georg, who, like their mother, continue to produce classic Ruster wines, while experimenting with other varieties and winemaking styles on the side.