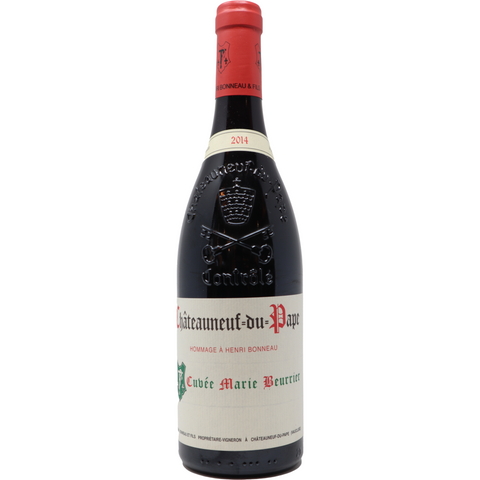 2014 Henri Bonneau & Fils Châteauneuf-du-Pape 'Cuvee Marie Beurrier', Rhone Valley, France
Pape Marie Beurrier is a pretty, spice-filled wine that has Burgundian style in its texture, medium-bodied richness, integrated acidity and fine tannin.
ABOUT THIS WINE
Making its debut with the 1988 vintage, Marie Beurrier takes its name from an aunt of Henri Bonneau. The blend is made from 90% Grenache and 10% Mourvedre, give or take as small portions of Syrah, Counoise, Vaccarese can also be included, or not.
The grapes are not destemmed, except in moderate or unripe vintages. Vinification takes place in traditional, concrete tanks. The wine is aged in a combination of old foudres and old as well as older French oak barrels for between 3 to 5 years. Every vintage is different and unique.
ABOUT THIS PRODUCER

Henri represents the 12th generation of his family to make wine in Châteauneuf du Pape, dating back to 1667, and his methods today continue to have more in common with the 17th century than with contemporary winemaking. From his inaugural vintage of 1956, Bonneau has stayed the course—he doesn't de-stem, gently crushes the whole clusters and then ferments for three weeks in concrete tanks with frequent pump-overs for gentle extraction.
Bonneau adds back his vin de presse for structure and then ages the wine in a haphazard collection of neutral foudres, demi-muids and piéces, none of them younger than ten years old. While these details describe the ultimate in traditional Southern Rhône winemaking, they don't explain just what makes his wines so extraordinary. Bonneau is a man of strong character and opinions, however, some of which lend clues to his wine's fantastic character.
Mostly located in the famed boulder-covered plateau of the Le Craulieu-dit, his vines average 30 years, the age that Bonneau considers optimum for great fruit. He trusts neither new clones nor vines older than 50 years. A traditionalist to the core, Bonneau is a Grenache partisan. Châteauneuf's classic varietal makes up 90% of his vines and, ultimately, 90% of his wine. The balance is in Mourvèdre, Syrah, Counoise and Vaccarese.
Henri claims not to know what his yields are. "I've no idea" is what he told Rhône Renaissance author Remington Norman, but his wine's fantastic concentration suggests that they are quite low. Like his friend the late Jacques Reynaud of Château Rayas, another Grenache devotee, Bonneau harvests as late as possible for ripeness and complexity.