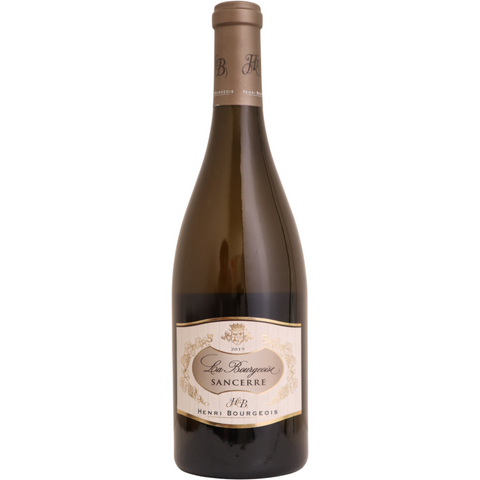 2020 Henri Bourgeois Sancerre "La Bourgeoise", Loire Valley, France
This wine with its gun-flint aromas and spicy bouquet is subtly wooded, rich in fruit, full-bodied, well balanced, and very reminiscent of the Sauvignon flower and grape. The richness and intensity of the flavor linger long and harmoniously on the palate.
ABOUT THIS WINE
When arriving at the winery, the grapes are directly pressed. After a settling at cold temperature, a portion of the wine is fermented in thermoregulated stainless steel tanks and the other portion in French oak barrels from the famous Tronçais forest. "La Bourgeoise" is patiently aged for 7–8 months on its fine lees in oak barrel with periodic hand stirring of the lees ("bâtonnage" in french), before bottling.
ABOUT THIS PRODUCER

For 10 generations, the Bourgeois family has committed efforts and emotions to working with vines, creating wines, and sharing their personalities. For our ancestors, the vine was already a passion into which they threw themselves, in addition to growing necessary subsistence crops and keeping a few goats.
However, the main figure of the turning point in the family's history was Henri Bourgeois. From cultivating two hectares on the slopes of Chavignol, he took the audacious step in the 1950's of concentrating on his vines in an area that was, until then, unknown. This is where wines of high quality were born and to which he gave his name.
His sons, Jean-Marie and Rémi, joined him in the 1960's and continued the adventure. They discovered new terroirs, bought land and developed partnerships with other Sancerre families. In time, they turned themselves into ambassadors for Sancerre's reputation – first in France and then abroad. Today, Arnaud, Lionel, and Jean-Christophe Bourgeois are just as much the heirs of those men as the initiators of the future of the vines and wines of the domain. A family working together, expressing their vivacity and their generous personalities through its wines; "Famille Bourgeois" is now a family name synonymous with Sancerre.