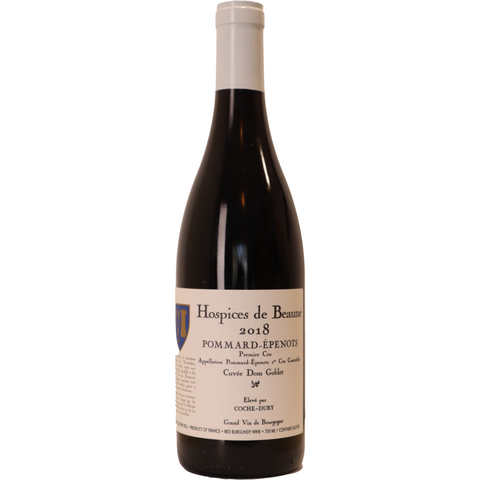 2018 Hospice de Beaune Domaine Coche Dury "Pommard - Épenots 1er cru", Burgundy, France
Beautiful red intense color with darker hints. Aromatic nose of black fruits and hint of blond tobacco. Backbone with nice fresh and elegant expression. This single vineyard wine shows the racy character of Les Epenots terroir.
There are 1 units left in stock.
ABOUT THIS WINE

The Abbey of Cîteaux was a pioneer cultivating Burgundy's vineyards. Records show a donation in 1260 of a Pommard vineyard named "En Espeneaul" (today written "Epenots"). In homage to Cîteaux's historic role, this Cuvée is named after the last cellarer of the Abbey, Dom Goblet, who worked until the Revolution. The Pinot Noir vines are over 50 years old, producing a subtly perfumed, harmonious wine.

Domaine Coche Dury follows traditional winemaking techniques but does a few things differently.
The winemaker's great devotion and craftsmanship are the secret ingredients of the vinification process.
The fermentation happens in oak casks, and the cuvee stays on its lees for longer than usual. This results in slower wine oxidation and a fresh, crisp texture. The red wines are softened with egg whites.
When the fermentation is complete, the wine ages in oak barrels for 15-22 months, and it is always bottled unfiltered. New wood is used to enhance the aging potential of the wines and improve their taste.
ABOUT THIS PRODUCT
In the 1920s, Leon Coche bought the Domaine and started growing grape vines. He used part of the grapes to make his own wine, and sold the rest to negociants.
Later on, Leon passed his property to his three sons. In 1964, his son George Coche started expanding his share of the Domaine with newly acquired vineyards.
In 1973, George's son Jean-François Coche took over the estate. His marriage to Odile Dury in 1975 added more lands to the family property and led to the founding of Domaine Coche-Dury.
Jean-François Coche-Dury established the high reputation of the Domaine with his rigorous devotion to his vineyard and the winemaking process. He received praise from some of the most famous wine critics, including Robert Parker, who described him as "one of the greatest winemakers on planet earth."
Alongside the international attention he received, Jean-Francois focused on perfecting the winemaking process and taking care of the Domaine and the family vineyards.
His son Raphael started helping in the vineyard in 1999. In 2010, when his father retired, Raphael took over the Coche family business and has proudly continued the tradition.