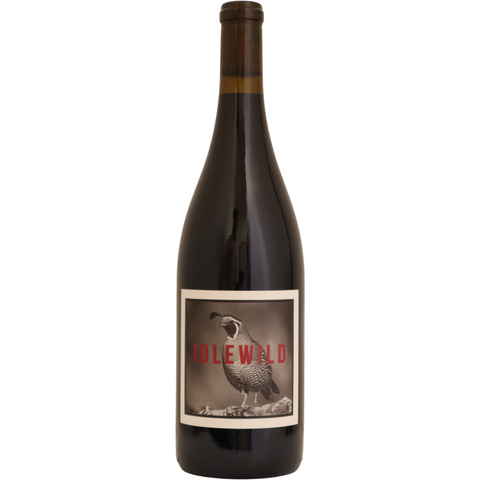 2021 Idlewild ''The Bird Flora & Fauna'' Red, Mendocino County, California, USA
This dark cherry-inflected red from winemaker Sam Bilbro is made from the following grapes, each lending its own characteristics: Dolcetto for its vibrant acidity, Barbera for its brambly fruit and denseness, and Nebbiolo for its structure.
ABOUT THIS WINE

2021 was a year that had us worried with drought and low yields, yet that is often the recipe for amazing fruit. We were lucky to have done a lot of work in the last few years to train our vines to less water while also increasing organic matter in the soils, which translates to higher water holding capacity. In other words, we cruised right on through these tough growing conditions and were able to see amazing fruit across the board.

All of these varieties have structure and at the same time a joyous side. The focus in fermentation was to build enough structure for a very versatile food wine but also to emphasize the exuberant and delicious elements of each grape. To do this, the wines were left largely whole cluster and all fermentations started with carbonic maceration. That being said, none of them were pushed to be fully carbonic wines. Instead, the initial lift in aromatics and push on frothy fresh fruits was achieved, and then I fully treaded the wines to allow fermentation to switch to a more standard flow. This gave a backbone and savory qualities to act as bass notes to the carbonic high tones. All of the wines were pressed a touch early to ensure that the tannic structure was appropriate for a shorter time in barrel, just four months in neutral oak.

ABOUT THIS PRODUCER
Sam Bilbro grew up hanging out in a winery converted from an old cow barn, walking vineyards, and tasting blends with my dad. Later, while in the restaurant industry, he was exposed to wines from across the globe and was especially struck by the wines of Italy's Piedmont.
Learning natural systems and the world of wine in general was his route to making wine and starting Idlewild. He was also fortunate to have many friends and family to learn from along the way.

Idlewild sources fruit from just two vineyards: Lost Hills Ranch and Fox Hill Vineyard Both are managed by Wild Ruth Farming, a collaboration between Idlewild and Ruth Lewandowski Wines. Holistic farming ensures that the site and vintage are allowed to speak.

Lost Hills Ranch is a dream. The beautiful loneliness of the open hills and the sentinel oaks covered in Spanish moss project out a sense of calm. The vineyard sits at 1500 ft of elevation, and the roots work hard to dig into fractured sandstone with schist veins and just a thin top layer of sandy clay. The Yorkville Highlands AVA sits along the southwest corner of Mendocino county and is marked by the clash of maritime and continental climates.

Fox Hill Vineyard is one of the most unique vineyards in Northern California. Located southeast of Ukiah on Mendocino's Talmage Bench, the soils are well drained with high concentrations of gravel, quartz, and sandstone. What makes this site so special is the fact that Lowell Stone decided to buck every trend and simply plant what he was interested in planting. Many trips to Italy turned to inspiration and the wild spectrum of varieties began to take root.