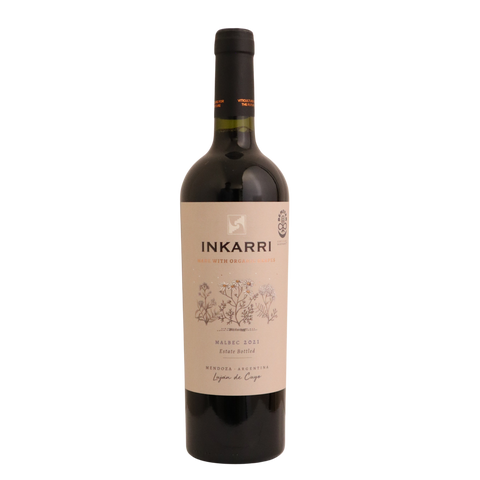 2021 Inkarri Malbec, Luján de Cuyo, Argentina
Nose of boysenberry compote, spiced black plums, cinnamon and vanilla. This wine is bold, fruit forward with notes of blackberry liquor, cherry cola, and custard tart. The mid-palate offers something deeper with notes of fresh tobacco, and dark chocolate.
There are 13 units left in stock.
ABOUT THIS WINE

Inkarri is the name of the mythical Inka King whom was very prominent in ancient Andean culture. This winery has all of the certifications; organic, biodynamic AND vegan! Their mentality is making beautiful Malbec that is fresh and balanced. 30% of the wine is aged in French oak for 8 months.

30% of the wine is aged in 225L French oak barrels for a minimum of 8 months, 70% of the wine is aged in concrete vats without epoxy sealing.

Vinification process is very respectful to the grapes. Traditional maceration. Cold soaking is performed until the natural fermentation starts. Extraction process is very gentle and lasts for about 15 days. Temperatures are controlled between 78-86 ºF.

ABOUT THIS PRODUCER

The Inkarri brand is produced by Proviva Winery, based in the heart of Mendoza, Argentina. Proviva embodies the quest for a wine identity that is both original and authentic. Their estate-grown wines are produced exclusively from organic and Biodynamic vineyards located in the best terroirs of Mendoza. The resulting varietal wines are the purest expression of the region's outstanding calcareous soils. Organic and Biodynamic agriculture guarantee a viticulture with no inputs, where vines authentically express the character of place.
Inkarri wines are produced from the organic and Biodynamic vineyards in the small village of Agrelo, Lujan de Cuyo, "the home of Malbec." Agrelo's terroir is considered to be some of the best in Mendoza for the production of complex red wines made from Malbec. Based in the western foothills of the Andes mountains, the wine-producing zone of Agrelo slopes upward from the town, with slopes reaching more than 3,000 Feet (1000m) above sea level. The region has a dry, desert-like climate, situated in the rain shadow of the Andes. Warm, sunny days are followed by much cooler nights due to cold winds that flow from the snow-capped Andes. This desirable diurnal shift of temperatures extends the ripening period and produces wines with balanced acidity and complex flavor profiles.