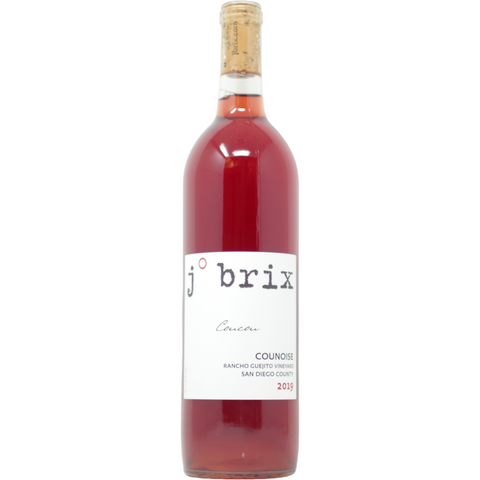 2021 J. Brix "Coucou" Counoise, California, USA
Juicy, fresh and chillable, Coucou is a wine for all seasons and all people. The red wine for the white (or rosé)-wine drinker; easy to love; and perfect with any kind of BBQ. Let the cherry-pomegranate waves wrap you up in a gentle swell.
ABOUT THIS WINE
Organic farming (uncertified), sandy loam soils; pressed to neutral French oak barrels after primary
fermentation where it completed ML then spends 3.5 months in barrel before bottling, no cold stabilization; natural sediment will form upon extended refrigeration; unfined & unfiltered.
ABOUT THIS PRODUCER
After tasting a bottle of Pinot Noir grown and made in the Santa Maria Valley, San Diegans Jody and wife Emily got their winemaking start as volunteer harvest interns there, and found they simply couldn't get enough of the dirty work. One dream led to another; J. Brix Wines is the unexpectedly felicitous result.
Jody's college and career background in horticulture translates to time and study in the vineyards; there's nowhere he'd rather be. A keen understanding of plant physiology provides insight into the way each individual growing season affects the vines, the fruit, and the wine. A keen intuition built on many years working with plants helps guide winemaking decisions, which vary from harvest to harvest based on the sum of the season.