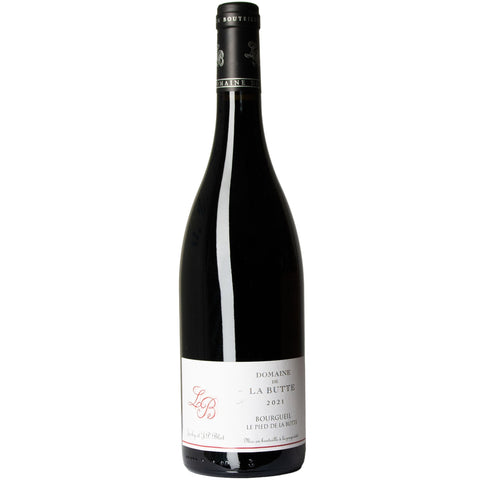 2021 Domaine de la Butte Bourgueil "Le Pied de la Butte", Loire Valley, France
Jack Blot never seems to fail in making delicious wine. Balanced and silky with fresh flavors of dark ripe berries, sappy strawberries, and a touch of orange zest and green bell pepper. Try pairing this with grilled poultry, or soft cheeses.
ABOUT THE WINE
Coming from the "foot of the mound," this Cabernet Franc hails from Jacky Blot's other estate winery, Domaine de La Butte in the Bourgueil appellation. The vines are roughly 35 years planted to clay and silex soil over limestone. The wine spends time in a mix of cement and older barrels.
ABOUT THE PRODUCER
La Butte translates as "The Hill", and is the name of the estate from which the grapes with which this Domaine de la Butte La Pied de la Butte is produced come from. It has 16 hectares of alluvial soils located on the most beautiful south-facing slopes on the right bank of the Loire, in the Bourgueil denomination, in France. Not only is landscape impressive, but so also is the location of Domaine de la Butte, the huge Jacky Blot winery, which is carved out of the rock.
The future of Loire Valley Chenin Blanc is in single vineyard, dry, terroir-driven whites that challenge the greats of Burgundy for precision, length, complexity and ageability. Pioneers like Jacky Blot are currently making the wines of a lifetime. This has been literally 25 plus years in the making, ever since Jacky first purchased eight hectares of 50 to 75 year old vines in Montlouis in the late 1980s. Transforming and building this organically certified property began in 1988. The level of grower commitment to natural farming practices and non-interventionist vinification is easily the highest percentage of any Chenin appellation in the Loire Valley. Every site is allowed to sing, without the sugar, without the battonage, no malo, using low levels of SO2, and minimal filtration. Jacky Blot is without question one of the inspirational leaders of this growing movement.