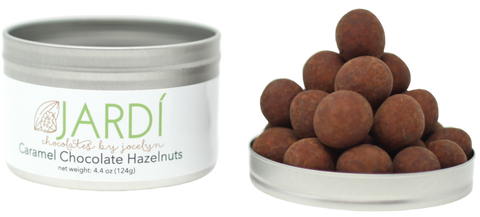 Jardí, Caramel Chocolate Hazelnuts
Hazelnuts easily top the list as our favorite nut! And these get the royal treatment - first candied, then rolled in both dark chocolate and caramelized white chocolate, and finished with cocoa powder. With two sizes to choose from, a zip-top bag or our snazzy new 4.4 oz tin, we think you'll be hooked!
ABOUT THE PRODUCER:
JARDÍ Chocolates was started in 2015 by Pastry Chef Jocelyn Gragg. After graduating from the Culinary Institute of America's Hyde Park campus, she began her professional life in some of the best fine dining restaurants in the south such as The Ocean Room at Kiawah Island, The Georgian Room at Sea Island, and Restaurant Eugene in Atlanta. While in these hubs of creativity, and inspired by the chefs of each, she created desserts using fresh, local ingredients in unique flavor combinations that would wow her guests. Restaurants were where she always felt at home. She was surprised, therefore, to be so inspired by a stage (french for internship) in a chocolate shop in Pennsylvania. After leaving Restaurant Eugene in 2015, she decided, along with her husband Jacob Gragg, to open a chocolate shop in Atlanta and bring the same dedication and wow-factor to the world of chocolates.
Inspired by the natural beauty of Northern Spain while on their honeymoon, they decided to name their new venture 'jardí', which means 'garden' in Catalan. The chocolates prepared at JARDÍ chocolates live up to the name; they are made from real ingredients, with no preservatives, additives or dyes, and are individually crafted to be both beautiful and delicious.
Jocelyn and Jacob met while working as the pastry chef and sommelier (respectively) at The Georgian Room at Sea Island. They got married in April of 2015 and spent their honeymoon in Spain, enjoying the cuisine and culture of San Sebastien. They share a love of great food and wine, Doctor Who, Disney movies, traveling and cows. They currently live in Atlanta with their dogs, Margaux and Hermitage, and rabbits, Delamotte and Fernet Branca.