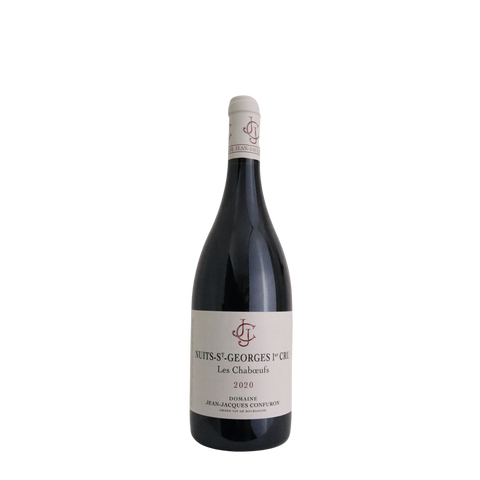 2020 Jean-Jacques Confuron Nuits-Saint-Georges 1er Cru "Les Chaboeufs", Burgundy, France
There is both good underlying tension and definition to the muscular middle weight plus flavors that flash evident power on the moderately firm and rustic finale. This is very Nuits in character and should age accordingly.
ABOUT THIS PRODUCER
One of Burgundy's most highly-regarded estates, the 20 acres of Domaine Jean-Jacques Confuron are now controlled by Sophie Meunier-Confuron and her husband Alain Meunier. They took over from Sophie's father in 1988, and converted all parcels to organic viticulture in 1990. The wines are brilliant examples of the concept of "power without weight", with great depth of flavors wrapped up in refinement and elegance. The entire range is outstanding here – the Côte de Nuits-Villages "les Vignottes" is a tremendous value for the quality, and their Romanée-Saint Vivant is a reference standard for one of the most refined of all Grand Crus.
Alain & Sophie's son Louis is involved at the domaine now as well, and their son Paul now has his own domaine in the south of France. (And they visited us here in Oregon in 2010 for the IPNC festivities.) Daughter Perrine is interning at Maison Alex Gambal in Beaune, and she too will likely head off to somewhere in Europe or the New World to soak up more experience.
There are not many cellars in Burgundy where the range of wines is so consistently superb from top to bottom. They are blessed with excellent parcels of 1er Cru and Village vines in Vosne-Romanée, Chambolle-Musigny and Nuits-St. Georges, not to mention two great Grand Crus – the Romanée-St. Vivant and Clos Vougeot. Alain's style is one of supreme grace and elegance. The wines are seductive and captivating, but they never shout.
The vineyards come from Sophie's side of the family, and we're once part of the Charles Noellat domaine. With the sale of part of the domaine to Leroy and the splitting off of pieces, you can now see the Confuron, Leroy, and Hudelot-Noëllat parcels side by side in several of the appellations. Confuron farms organically, Leroy farms Biodynamically, and Hudelot-Noëllat treats their vines "conventionally" – making it fascinating to see these parcels one next to the other.