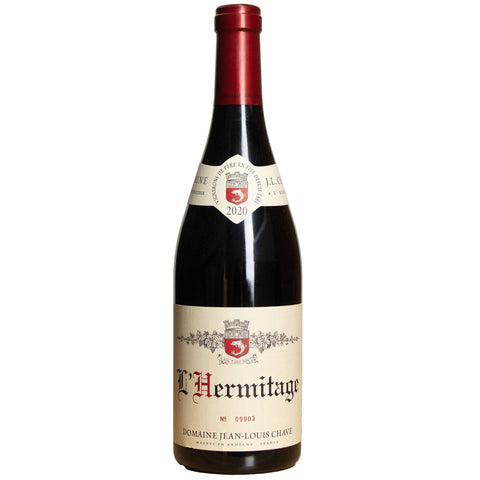 2020 Jean-Louis Chave Hermitage Rouge, Rhone Valley, France
Pure magic! The 2019 is a very convincing and complex edition of this wine. Full-bodied yet mineral laced and elegant with aromas of graphite, tar, dark chocolate and black cherries. The palate is a deep, plush stream of fresh plums and blackberries.
ABOUT THIS WINE
Chave is one of the latest to harvest, because he believes that tannin and extract are more important than acidity in giving the wine ageing ability. The grapes are usually destemmed to eliminate astringent tannins, but in a ripe year such as 1990, he may leave 50% of the stems. Fermentation and cuvaison lasts 2-3 weeks, with temperatures allowed to rise above 30°C, particularly at the end of the fermentation when extraction is critical. Chave uses a mixture of old open oak vats (with pigeage by foot), cement cuves and stainless steel (with pumping over), depending on the individual needs of each parcel. Malolactic fermentations may take place in vat or in cask, and press wine may or may not be blended back, depending on the year. The reds are aged 15-18 months in cask or in old Hungarian oak ovals of 1300 litres. A maximum of 10% new oak is used, but Chave prefers second-hand barrels which he buys from Christian Serafin in Gevrey-Chambertin. After careful racking, the blend is painstakingly assembled, with the discarded wine sold off in bulk.
ABOUT THIS PRODUCER
Jean-Louis Chave is one of the top producers in the Rhone Valley and we are always excited to feature his wines on our shelves!
Wine growers in the northern Rhône since 1481, the Chave family (currently helmed by Gérard and son Jean-Louis) represents 16 generations of unbroken lineage committed to the production of some of the finest Syrah, Marsanne, and Roussanne on the planet. Jean Louis joined his father in 1992 after completing undergraduate studies at University of Connecticut and a degree in oenology at Davis. It was at that time that he completely replanted vineyards on the family's original estate in Saint-Joseph, which had been abandoned in the early 1900's when phylloxera hit the region.
The key to perfect balance in Chave's Hermitage is in their remarkable blending skill, which begins again every season. Many hours of thought, insight, and conversation go into the final component blend for Hermitage. Never once has the Chave family released a single vineyard or cru Hermitage. While percentages vary from year to year, the constant backbone of Hermitage Rouge is Syrah from Bessards Vineyard with its steep, granitic slopes. Similarly with the Blanc, the components vary, however the base is made from old vines Marsanne from their Péléat vineyard. Some Roussanne is also added to the final blend.