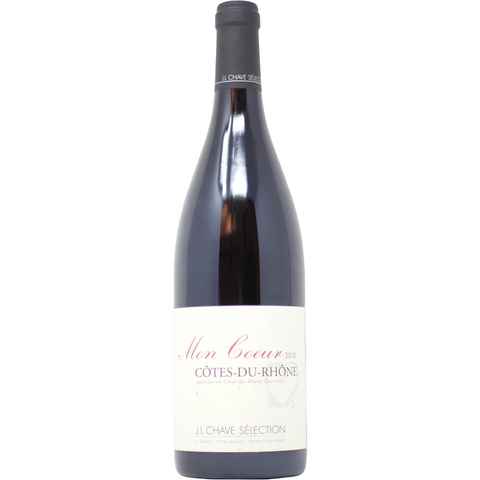 2018 J.L. Chave Cote du Rhone "Mon Coeur"
The Côtes du Rhône 'Mon Coeur' is a blend of four distinct terroir located in and around Chateauneuf-du-Pape. Though the blend varies year to year, it is roughly 50% Syrah and 50% Grenache. Vine age is between 20-60 years.
ABOUT THIS WINE

Though the Côtes-du-Rhône is technically made from purchased fruit, Chave generally has financed his sources and takes their grapes by a métayage (sharecropping) arrangement. He has more or less complete control over the farming, which is organic. The grapes are shipped to Chave's facility inside his Saint-Joseph Le Clos site in Mauves. Fermentation is in stainless steel tanks and élevage is in an assortment of new and old barrels, demi-muids and large foudres at the magnificently restored cellar at Le Clos.
At the conclusion of élevage, the wines are assembled and transported to the original "Selections Cellar" next to the Domaine where the wines under- go filtration, collage, etc. and are bottled. Total production is approximately 15,000 cases.

ABOUT THIS PRODUCER

Going back to 1481, when the first Jean-Louis Chave was gifted a vineyard in St Joseph by the nobleman Farconnet, 25 generations have farmed some of the best parcels in the Northern Rhône. Though now known as perhaps the best producer of Hermitage (and certainly among the best blenders in the world), the family only expanded to this famous hill during the mid-1800s wave of phylloxera that decimated Europe's vineyards.
In the 1970s, when Gerard Chave took over from his father, the domaine rapidly achieved megastar status due to the extraordinary quality of his wines. Gerard's son Jean-Louis (25th of his name) now oversees the estate and has shown an ever expanding dedication to improving the already stunning quality of these rare wines. Jean-Louis Chave regularly dedicates the domaine to intense and exacting projects, the benefits of which will be seen by future generations. Indeed, the estate employs three full time stonemasons just to repair the traditional stone walls dotting the vineyards.
Since the 1990s, Jean-Louis Chave has offered a second label known as 'J.L. Chave Sélection' that provides a glimpse of the reason for the estate's fame at a fraction of the price. Many of these wines are from declassified estate wine and long term farming contracts, and are vinified in the domaine's primary cellar in Mauves.