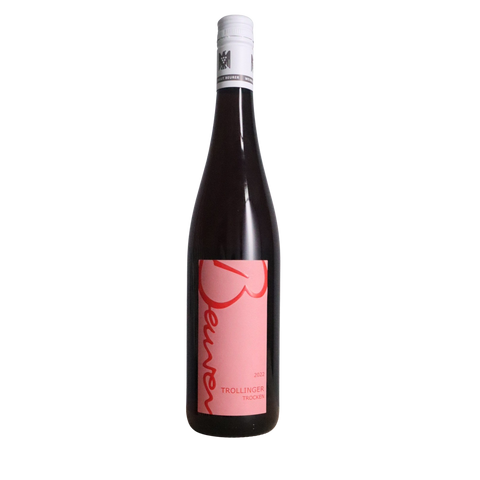 2022 Weingut Beurer Trollinger, Württemberg, Germany
Light and bright with flavors of crunchy red fruits, a myriad of dried spices and a fine, buoyant minerality. A chill-able red you want to taste!!
ABOUT THIS WINE
Vines planted in the mid-seventies and farmed biodynamically, grapes are hand harvested, and the wine ferments in old barrels.
ABOUT THIS PRODUCER
Among winemakers in Germany, Beurer is revered and his whites and reds are nearly always considered among the greats. Few winemakers are able to achieve such thrust and such purity, from the simpler Trollinger and Portugieser up to Grauburgunder, Sauvignon Blanc and, yes, Riesling.
Yet Beurer's influence flows not only through his wines, but through his actions. Jochen is one of the deepest thinkers about the environment beyond the vineyards. A tour with Beurer is as likely to include a discussion of his bees, the vegetation and animals surrounding the vineyards as it is to include a discussion of the soil and vines themselves.
Jochen farms both organic and biodynamic (he is Demeter certified), yet still he does not speak in easy truths; he seems to be seeking a viticulture that is beyond these simple rules, more integrated, more complete.