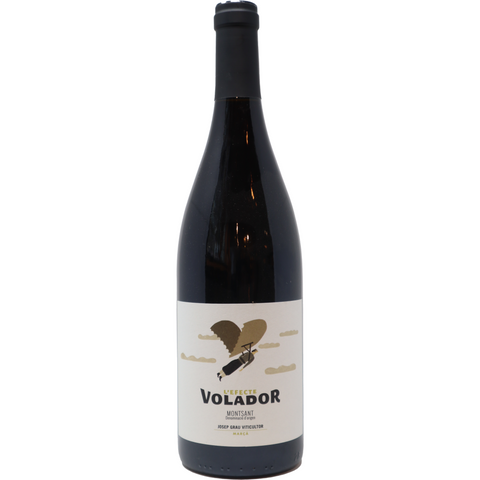 2018 Josep Grau "L'Efecte Volador" Montsant, Catalonia, Spain
80% Red Grenache and 20% Samsó (Carignan). Fruit comes from one estate that surrounds the Marçà winery plus some vineyards in the municipality of La Serra d'Almos. Vines are between 15 and 35 years old. Organic viticulture. All work is done by hand.
ABOUT THIS WINE:
Located in Marçà, offers a wide range of extraordinary wines (mainly single vineyard wines) thanks to the different types of soil where the vineyards are planted.
The vineyards of Garnacha and Samsó organically grown with the desire to express the uniqueness of each plot. Continuing with the meticulous work of the vineyard, in the winery, it is a minimal intervention during its production in order to respect the fruit and the natural freshness of the grapes.
ABOUT THIS PRODUCER:
The Josep Grau winery is a family project located in the municipality of Marçà, in the Montsant DO. Currently one hundred thousand bottles of different wines are made, of which 70% are exported and the rest is distributed in the domestic market. Josep Grau is the winemaker and winery owner; he currently manages 26 acres of vineyards in different parts of the Montsant D.O. and a diversity of soils. From small productions per vine – ranging from 500 grams in vineyards aging over 70 years – to 1.5 kilos in vineyards between 15 to 40 years old. All work is done by hand, from pruning to harvest. Viticulture is organic, free of herbicides and pesticides.

One of the basic characteristics is that the wines from Josep Grau are not corrected and remain as obtained from the vineyard. The main objective is to bring the fruit of the vine to the bottle with all its natural characteristics. From the beginning of his career, he has worked with local yeasts and minimum levels of sulfur to simply ensure proper protection of the wine. Fermentation occurs in cement tanks 90% of the time and the rest in stainless steel and oak. The wine is aged in casks or French oak barrels.

The main objective is to make Josep Grau wines a reflection Montsant area and the vintage, with complexity and personality, fresh, with good structure and balance.