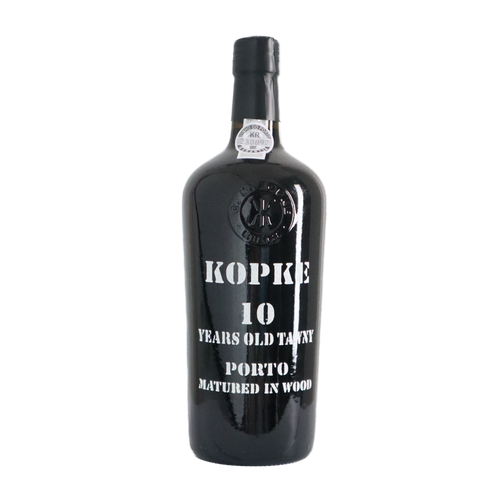 NV Kopke 10 Years Tawny Port, Douro, Portugal
An appealing golden color, with an amber rim. Elegant and complex, it shows aromas of spice, with prevailing notes of dried fruit and elegant hints of wood and honey. Smooth and round on the palate, it shows complexity amidst intense flavors of dried fruit. An excellent finish.
ABOUT THIS WINE
The average age of the wines used for this blend is 10 years aged. Traditional Douro grape varieties are hand-picked at the optimum time, the grapes are then destemmed, crushed and converted into wine through a process of careful maceration to extract their colour, tannins, and aromas, enhanced by constant churning during fermentation. This takes place in vats (lagares) at a controlled temperature (between 28-30°C) until the right degree of sweetness (baumé) is achieved. At this point, grape brandy is added to create the final fortified wine. These wines have each matured in oak casks for varied periods of time, with the average age of all the wines in the blend defining the age on the label. The resulting blend expresses the characteristics given by the aging in wood.
Irresistible with a starter of foie gras with aubergine and walnuts. A great choice for an endless array of desserts, such as toffee brownies, chocolate and pistachio pavé, or crostini of walnuts with chèvre. Best served at a temperature between 12 and 14°C.
ABOUT THIS PRODUCER
Kopke is part of Portugal's legacy and was created in 1638 by Christiano Kopke and his son, Nicolau Kopke.
Over a handful of generations the Company was managed by several representatives of the Kopke family and gets an excellent reputation for its wines. Some of its members were deeply involved in the Port trade, mainly in the 19th century. In 1953, and after some negotiations, the Barros family, headed by Manuel Barros, then bought the company, which is growing eversince with the development of new vineyards planting the best known varieties. In June 2006, the Group expands and becomes Sogevinus with a strong presence in the Port wine industry. Today Kopke is one of the oldest brand of port wine and assumes leadership in the category "Porto Colheita".