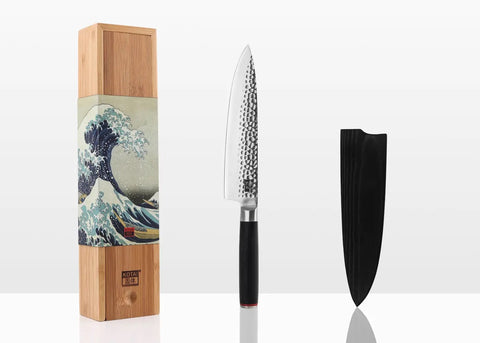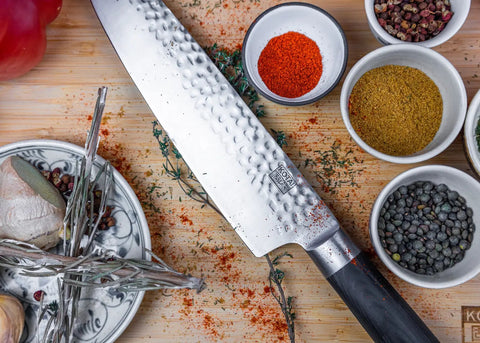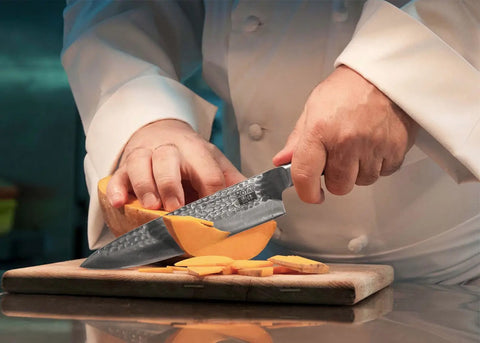 KOTAI "Gyuto" Chef Knife + Gift box
There are 10 units left in stock.
Made in China
• Dimensions: 35.6cm l x 7.7cm w x 5.3cm h
Gyuto (chef knife), 20 cm blade. The Gyuto is the Japanese equivalent of the chef knife, nimble and well-balanced for a comfortable grip, able to cut anything except bones and frozen food.
100% handmade.
Ultra-sharp Japanese 440C high-carbon stainless steel.
Hidden full tang.
Black pakkawood handle.
HRC hardness: 59-60. Weight: 198g.
Perfectly balanced. Stainless.
Wooden Saya included with each knife.
Lifetime warranty.
Hybrid between a Japanese and a German blade profile, the slightly curved belly allows a rocking motion for effortless chopping and mincing while the lowered tip makes precision work easier.
The "Tsuchime" 槌目 (hammered) pattern creates tiny pockets of air between the blade and the food being cut. This ancestral Japanese method reduces drag, thus preventing food from sticking to the blade.
Its 1.8 mm thin blade allows precise and sharp cuts, never crushing even the most delicate food to preserve its full flavor.