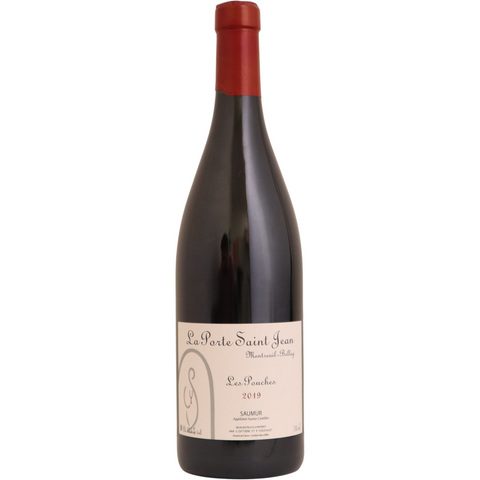 2020 La Porte Saint Jean Saumur "Les Pouches", Loire Valley, France
Black fruit aromas mingle with violet and spice, pepper and licorice. The palate reveals a bewitching sap that perfumes the palate without heaviness, all in delicacy and subtlety. The finish is long and typical.
There are 21 units left in stock.
ABOUT THIS WINE
Like his single vineyard reds, Dittière's Saumur-Champigny is destemmed and fermented using native yeasts in fiberglass tank. After 6 weeks of maceration, the free-run (2/3) and press wine (1/3) is fed into used Bordeaux-type barrels, where it ages for 18 months before blending and bottling.
ABOUT THIS PRODUCER
Winemaking wunderkind Sylvain Dittière founded La Porte Saint Jean in 2010, when he was just 24 years old. He built the domaine from the ground up, first purchasing organically farmed grapes from a trusted local grower until he could find the financial footing to purchase his first plot: 5 acres of prime Saumur terroir on limestone and Jurassic silex planted to 60-year-old Cabernet Franc vines. He has since added another 10 acres on soils that range from clay to yellow marl to alluvial sand.
For someone to have achieved so much success so young despite not growing up in a winegrowing family is an anomaly in the region, but Dittière earned his chops by completing an all-star lineup of internships, working under the likes of Gérard Gauby (Domaine Gauby, Roussillon), Marc Tempé (Domaine Marc Tempé, Alsace), Thierry Germain (Domaine Thierry Germain, Loire) and Antoine Foucault (Domaine du Collier, Loire). Dittière destems his reds at harvest and does a 6-week maceration before racking into barrel for malolactic. His vinification is a "grapes-only" process—that is, no added yeasts, enzymes, sulfur or any additive other than the fruit itself. And he performs neither punch-downs nor pump-overs, letting the juice quietly infuse as it ferments. The cellar at La Porte Saint Jean is a hidden marvel. Above ground, it's a modest country home. Below, it's a subterranean series of galleries carved out of the mother rock, dating back to the 13th Century. What's more: it maintains the ideal temperature year-round. There, even his whites undergo extended aging in used barriques and 500-liter casks.