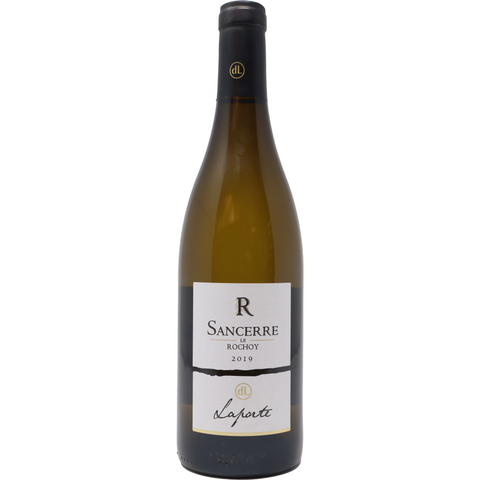 2019 Laporte Sancerre "Le Rochoy", Loire Valley, France
Heavenly expression of Sancerre - rich and well-balanced with a fine flinty tang. Ideal with smoked fish, shellfish and white meats. Laporte is certified organic, ensuring that every wine is produced in the most traditional and natural way possible.

ABOUT THIS WINE
"Domaine du Rochoy" is a 10-hectare slope, unique in the region of Sancerre. Soaking up the heat in the daytime, the flint rocks in the vineyard slowly cool in the night.

After racking at low temperature, the wine ferments for 10 days in stainless steel tanks at temperatures ranging from 15° to 20°C (59° to 68°F). Neither yeasting nor malolactic fermentation is employed. The wine is matured on its fine lees for 5 months and is then vacuum-bottled (exclusively in darkly tinted bottles). Only high quality natural corks are used. The wine undergoes additional maturation for at least one month in the bottle before being offered for sale.
ABOUT THIS PRODUCER

Domaine Laporte is the result of a perfect blending of two renowned Sancerre families. Founded in 1850 in the village of Saint-Satur, Domaine Laporte was run until 1986 by René Laporte. A visionary chair of the Sancerre appellation for 20 years, René was a pioneer in producing low-yield, high-quality Sancerre during a time of overproduction.

A well-known winegrower from Chavignol, Henri Bourgeois purchased the domaine from René, keeping the old vineyard, cellar and house – and maintaining the excellent reputation. Now under the watchful eyes of Henri's two grandsons, Arnaud and Cedric Bourgeois, Domaine Laporte is one of the most highly respected estates in the Loire Valley. It holds more than 74 acres, and the flagship Sancerre comes from one of the finest vineyards in the appellation, Domaine du Rochoy, a 25-acre monopole vineyard carved out of the flint hillside overlooking the Loire River. Typically one of the first sites picked in the appellation, Rochoy offers grapes with wonderful ripeness and incredible mineral expression from Silex soils, the rarest terroir in Sancerre.