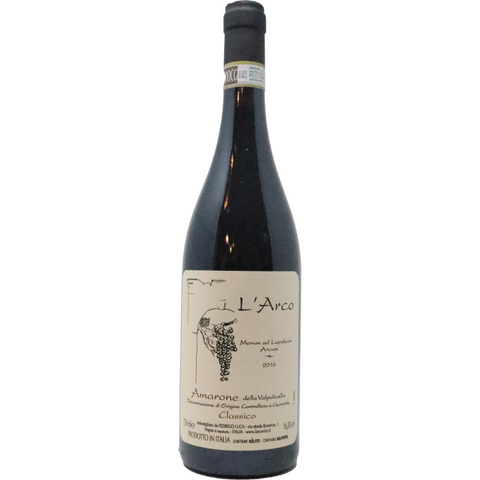 2017 L' Arco Amarone Della Valpolicella Classico, Veneto, Italy
Luca Fedrigo experiments with the traditional Valpolicella blend by adding Bordeaux varieties to the mix. He is a one-man operation, minimal interventionist and practices organic farming. Only 400 cases are produced of this coveted wine.
ABOUT THIS WINE
A totally beguiling wine, this is very traditional in style. The grapes are laid out to dry and raisinate for 100 days prior to pressing. Fermentation occurs in stainless steel tanks, and the wine is aged for three to four years in Slovenian oak barrels.
ABOUT PRODUCER
Winemaker Luca Fedrigo only makes Amarone in the best years. Luca learned from the master, Giuseppe Quintarelli, in the Valpolicella and has carried on with his own tradition in style and quality. This wine is a must try for any true fan of Amarone!

The Estate takes its name from a stone arch, called "Arco di Giove", well in sight on the road to Negrar (one of the seven historic Valpolicella counties) and near the farmhouse where the Fedrigo family resided until a few years ago. The arch, dating from 1500/1600, was one of a series of seven arches along the hillside path near S. Vito di Negrar. It is a name that awakens memories of the past for Luca Fedrigo, which he has wanted to pass into the wines produced by him; Luca, has worked for many years in a prestigious Valpolicella's cellar, which must his experience and gratitude, it proposes like a young establishment but with an ancient hearth, dynamic and well-based, able to offer a product that is unique for its origins and which retains all the traditions tied to Valpolicella.