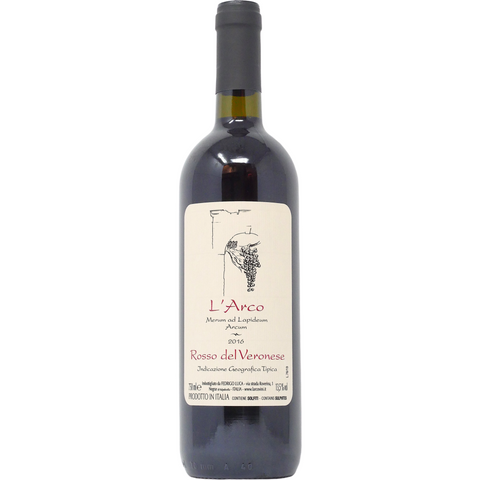 2020 L' Arco Rosso del Veronese, Veneto, Italy
This medium bodied red blend is a true pleasure to drink with a complexity that appeals to all, with ripe red fruits, dried herbs, earth, and a lengthy finish. We love this wine with Soul food; pork, collard greens, and mashed potatoes.
ABOUT THIS WINE
The "red from Verona." All the native grapes are from the classic zone but the Sangiovese is planted closer to the city of Verona.
The estate blend with local grapes and Sangiovese. The Sangiovese highlights the red fruits in the blend, the style is fruit forward with complex aromatics of herbs, underbrush and wild berries, and the palate is supple and relaxed. The tannins and acidity provide texture in the background and are revealed in the finish to create length. Serve at 55-60° F, allow the wine to breath up to 30 minutes before serving.
Harvesting is done by careful hand sorting, destemmed and fermented in tank with native yeast. A minimum 12 months in traditional botti barrels and released 3 years after harvest. No fining, a delicate filtering to remove yeast, vegan. Minimal sulfur is added during fermentation and aging, no additional sulfur is added at bottling.
Practicing organic. From three vineyard sites, the Sangiovese is planted south near the Adige River with alluvial soils, the native grapes planted on rocky, clay soils in the Classico zone. VINE: Sangiovese 15%, was planted in 2004. The native grapes, Corvina, Rondinella, and Molinara are co-planted in the classic zone and are an average of 50 years old. Hand-harvested fruit from estate owned vineyards. 1,400 cases produced.
ABOUT THIS PRODUCER
The Estate takes its name from a stone arch, called "Arco di Giove", well in sight on the road to Negrar (one of the seven historic Valpolicella counties) and near the farmhouse where the Fedrigo family resided until a few years ago. The arch, dating from 1500/1600, was one of a series of seven arches along
the hillside path near S. Vito di Negrar. It is a name that awakens memories of the past for Luca Fedrigo, which he has wanted to pass into the wines produced by him; Luca, has worked for many years in a prestigious Valpolicella's cellar, which must his experience and gratitude, it proposes like a young establishment but with an ancient hearth, dynamic and well-based, able to offer a product that is unique for its origins and which retains all the traditions tied to Valpolicella.