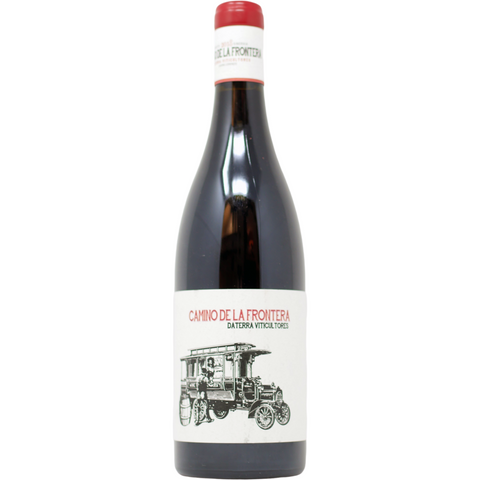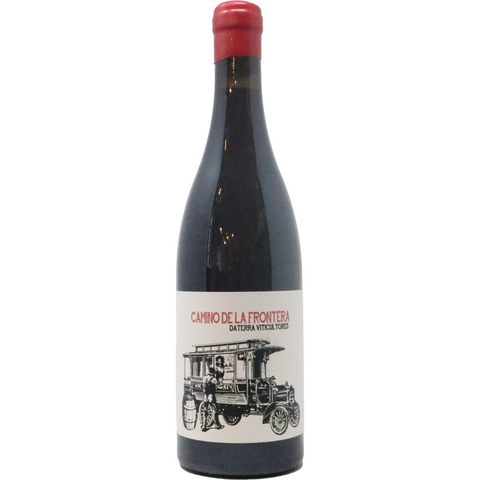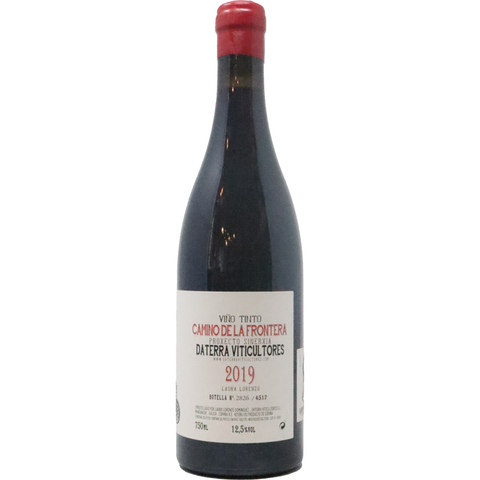 2019 Laura Lorenzo "Camino de la Frontera" - Arribes del Duero, Spain
This is a red wine of elegant rusticity, with a floral nose of violets, dark fruits, herbs, and a touch of toasty oak from the new foudre. The palette is a beautiful bouquet together with soft tannins and bright acidity.
ABOUT THIS WINE

Camino de la Frontera Tinto comes from Angel Mayor's ancient, northwest-facing vineyard in the Parque Natural de Los Arribes del Duero, planted to mostly Juan Garcia & Tinta Madrid (aka Tempranillo) balanced by other indigenous varieties. The grapes are hand-harvested, 50% foot-trodden whole-cluster and 50% destemmed, wild yeast fermented in used 500L French oak barrels and a new 2000L foudre with about 2 weeks of skin maceration, then raised in the same vessels for 12 months.


ABOUT THIS PRODUCER

Hailing from Allariz in the province of Ourense, Laura remembers always loving wine as a kid. So much so that she decided, at the tender age of 16, to become a winemaker and enroll in the local enology school. Upon graduation, she worked at the nearby Adega Cachín, and then overseas with Eben Sadie in South Africa and Achaval Ferrer in Argentina. After her various apprenticeships, Laura took over the reins at Dominio do Bibei, a pioneering producer of fine wine in the Quiroga-Bibei subzone of Ribeira Sacra. Laura worked there for 10 years developing a style of winemaking that was fine-tuned to the hillsides of the region, specifically to the terruño around the village of Manzaneda. In 2014 Laura struck out on her own, and with the help of her chef/artist partner Alvaro Dominguez formed Daterra Viticultores. This is how they describe their project: "Daterra Viticultores owes its name to the many women and men who have spent the course of their lives on the Manzaneda mountainsides in the Bibei valley cultivating these vines, and who entrust Laura Lorenzo to carry on their culture."

The most southeast of the 5 Ribeira Sacra subzones, the Quiroga-Bibei terruño is also one of the most diverse. The landscape is rugged and sparse, with steep terraced and un-terraced vineyards overlooking the Bibei, Jares, and Navea rivers. Here the climate of the Atlantic intertwines with warm continental influences. In the lowest elevation vineyards, the vegetation and climate seems almost Mediterranean, with olive trees and herbs such as lavender and thyme growing wild. Granite is the dominant soil type, complimented by slate, clay, gneiss and sand. There are many grapes planted here not often seen in other parts of Ribeira Sacra or Galicia, such as Mouraton and Colgadeira. The diversity and beauty is breathtaking.

Laura has pieced together 4.5 hectares of rented and owned vineyards with the majority of the parcels 80-120 years old. She produces a wide range of wines, from a Ribeira Sacra regional wine called Portela do Vento, to Manzaneda village wines called Erea, Gavela, and Azos de Vila, to single parish or vinos de parroquia wines such as Azos de Pobo Soutipedre, with single parcel wines on the horizon.

For her estate vineyards, Laura describes her farming as "agro-ecology with minimal impact." She works with techniques that nurture life in the soils that have been decimated by years of industrial agriculture, to create a healthy and thriving ecosystem for her old bush vines. All work is carried out manually, with some biodynamic preparations utilized.

In the winery, Laura's winemaking is decidedly low tech and non-interventionist. She ferments with native yeasts and works with little sulfur. The wine is moved by gravity whenever possible, and the wines are not fined or filtered. Laura and Daterra's over-arching philosophy: "We seek for the future through agriculture, which means years of work in the vineyard…our grapes give good information, and let us know where the wine wants to go."
​