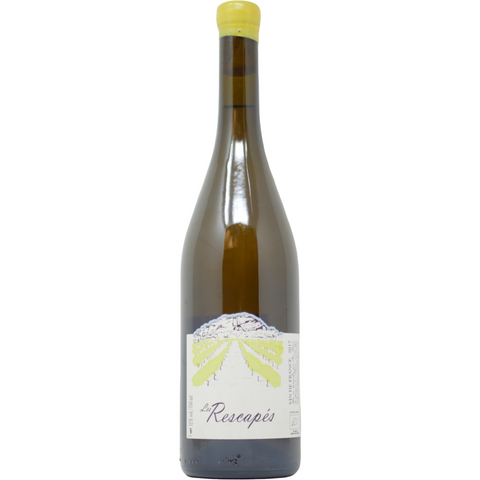 2018 Les Grangeons de L' Albarine Bugey "Les Rescapés", Savoie, France
Grown on the Coteau d'Argis, from a plot farmed biodynamically since 2011. Vines located at an altitude of 1,300 feet, on a slope facing south. Aged in a single used oak barrel for 11 months and bottled without fining or filtration but with minimal addition of sulfur.
Les Grangeons de l'Albarine is a one-man show run by Luc Bauer, a self-described paysan vigneron dedicated to producing authentic wines and protecting the environment of his home region. That objective involves reviving the viticultural area around the Coteau d'Argis—home to 247 acres of vines at the turn of the 20th Century but now largely deserted.
"Grangeon" is a term used to describe a small rudimentary shack located in a vineyard. In Bugey, one of France's most unspoiled landscapes (often lumped together with Savoie in textbooks), plots suited to vine cultivation are typically far from any village, so it was common practice to install the press right in the middle of the vines. Grangeons were constructed to protect the presses from the elements and serve as shelter for vineyard workers. This not a land of million-dollar wineries and fancy machinery.
Bauer farms 6 acres split over several sites. The largest is a southwest-facing slope in the shadow of the Roche de Narse. There, afternoon sun drenches the rocky, white-chalk soil, which then captures heat to keep the vines warm into the night. He's a firm practitioner of biodynamics, which he describes as an evidence-based methodology that involves all living organisms in an environment and the energies they exert on one another. Yes, he uses preparations 500 and 501 and syncs his vineyard and cellar work to the lunar calendar... but only because he has only ever seen positive results. Now, this humble paysan's wines can be found in restaurants like René Redzepi's Noma in Copenhagen and André Chiang's RAW in Taipei.