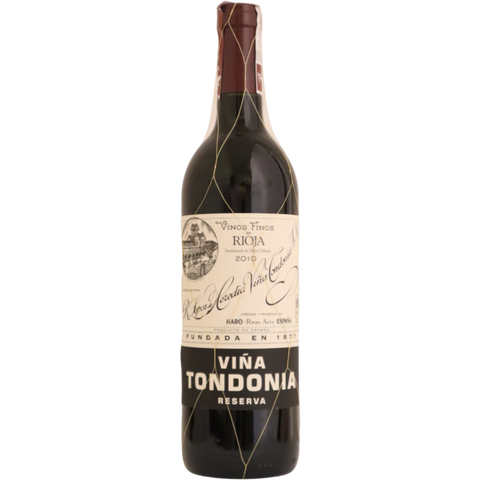 2011 López de Heredia 'Viña Tondonia" Rioja Reserva, Rioja, Spain
Vibrant red leading slightly towards amber on the rim. On the nose, you'll find light fresh texture with notes of vanilla and dried berry aromas. The palate further accentuates the flavor profile and is very dry, smooth, developed. Firm tannins and good balance.
There are 15 units left in stock.
ABOUT THIS WINE

López de Heredia, one of the world's most traditional and venerated producers, has long mastered the discipline of winemaking and the tedium of incredibly long aging. Each soulful bottling of Tondonia is a timeless expression of Rioja classicism; the ultimate gold nugget.

This is a big and deep wine, but still exquisite. Serve at 65 degrees F in either Burgundy or Bordeaux stemware. Let decant for a minimum of 1 hour. This wine will pair beautifully with a roast lamb with anchovy, garlic, and rosemary. 
ABOUT THIS PRODUCER

When D. Rafael López de Heredia y Landeta began building the bodega, little did he realise that his masterpiece would one day be acknowledged as an example to the rest of the industry of the most perfect combination of buildings and vineyards. Like many medieval masterpieces, still incomplete, the buildings stand below and above ground - a veritable "Cathedral to wine". Browsing through the vaulted underground corridors and staircases, you find yourself travelling back in time, and the founder's touch can still be sensed in the very stones and fabric of the building.
View of the winery with its tower "Txori-Toki" tower
Today the estate covers an area of 53,076 square metres including 19,718 square metres of buildings, 3,433, 41 square metres of which are underground cellars up to 200 metres long and descending to an overall depth of 15 metres. 12,900 Bordeaux oak barrels are stored in the heart of a mountain within our cellars.
In addition, the bodega is home to a large family of 72 oak vats from areas such as Cantabria, Bosnia, Allier and America. Their capacity ranges from 60 hectolitres, the baby, up to the largest which holds some 640 hectolitres. Oak casks play a pivotal role in the fermentation of our wines as we use completely natural and traditional methods of wine making.
As with cathedrals in the past, work on building the winery is never-ending. Every successive member of the family has taken on the task of completing an aspect of the founder's original vision. These plans, combined with a continuing family commitment, have resulted in each generation leaving its mark on the complex.
Each part of the cellars, built and added onto over a period of a hundred years, has been given a name. These names, some of which cannot be translated, are evocative of the past and their origin lies in local legends and our old Rioja dialect: "La Bodega Vieja" (The Old Cellar), "La Bodega Nueva" (The New Cellar), "La Bisiesta", "La Dolorosa", "La Bodega de Reservas", "El Caladillo", "El Frontón" (The Pelota Court), "El Cementerio" and "El Calado". These underground cellars with their rich and golden aroma of old oak leave the visitor with a lasting impression of romance and mystery.