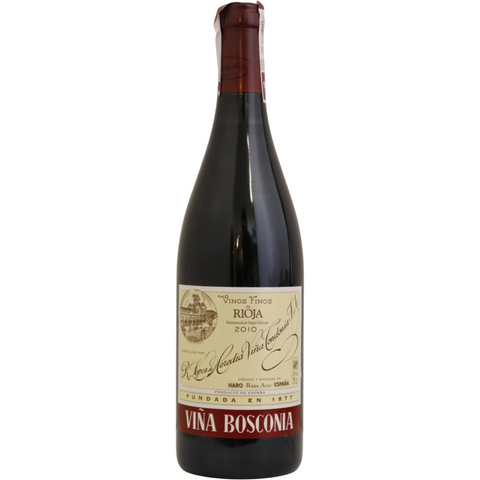 2012 Lopez de Heredia "Vina Bosconia" Rioja Reserva, Rioja, Spain
This wine has evolved perfectly showing a deep ruby color with shades of orange. Its nose is persistent, full bodied and showing a lot of mature fruit, being dominated by Tempranillo. Its taste is round, smooth, fresh, full of body and persistent.
There are 11 units left in stock.
ABOUT THIS WINE
Viña Bosconia wines come from our vineyard called El Bosque. Originally, our great-grandfather, the founder, with his French influence, gave the wines names inspired by French wines. Viña Bosconia comes from a Burgundy-style wine that he used to make with a high percentage of Pinot Noir, and which he called "Rioja Cepa Borgoña".
The El Bosque vineyard is situated next to the river Ebro at an altitude of 465m and it is one kilometre away from our winery. Vines are planted on the south-facing foothills of the Sierra Cantabria range, providing them with the perfect conditions for ripening. The soil is a mixture of clay and limestone, and the average age of the vines is 40 years. El Bosque consists of 15 ha, 11 of which are Tempranillo, 2 ha of red Garnacho , 1 ha of Mazuelo and 1 ha of Graciano.
In general, Viña Bosconia wines are elegant but full-bodied; have a deep colour and good structure, and are wines with great complexity and expression.
The Viña Bosconia Reserva is made every year in quantities varying from 20,000 to 48,000 bottles. The difference between the Reserva and the Gran Reserva wines is that the former are made every year and are "coupage" wines and not vintage wines. They age for 5 years in American oak barrels, and are hand racked around 10 times before they are released to the market.
ABOUT THIS PRODUCER

When D. Rafael López de Heredia y Landeta began building the bodega, little did he realise that his masterpiece would one day be acknowledged as an example to the rest of the industry of the most perfect combination of buildings and vineyards. Like many medieval masterpieces, still incomplete, the buildings stand below and above ground - a veritable "Cathedral to wine". Browsing through the vaulted underground corridors and staircases, you find yourself travelling back in time, and the founder's touch can still be sensed in the very stones and fabric of the building.
View of the winery with its tower "Txori-Toki" tower
Today the estate covers an area of 53,076 square metres including 19,718 square metres of buildings, 3,433, 41 square metres of which are underground cellars up to 200 metres long and descending to an overall depth of 15 metres. 12,900 Bordeaux oak barrels are stored in the heart of a mountain within our cellars.
In addition, the bodega is home to a large family of 72 oak vats from areas such as Cantabria, Bosnia, Allier and America. Their capacity ranges from 60 hectolitres, the baby, up to the largest which holds some 640 hectolitres. Oak casks play a pivotal role in the fermentation of our wines as we use completely natural and traditional methods of wine making.
As with cathedrals in the past, work on building the winery is never-ending. Every successive member of the family has taken on the task of completing an aspect of the founder's original vision. These plans, combined with a continuing family commitment, have resulted in each generation leaving its mark on the complex.
Each part of the cellars, built and added onto over a period of a hundred years, has been given a name. These names, some of which cannot be translated, are evocative of the past and their origin lies in local legends and our old Rioja dialect: "La Bodega Vieja" (The Old Cellar), "La Bodega Nueva" (The New Cellar), "La Bisiesta", "La Dolorosa", "La Bodega de Reservas", "El Caladillo", "El Frontón" (The Pelota Court), "El Cementerio" and "El Calado". These underground cellars with their rich and golden aroma of old oak leave the visitor with a lasting impression of romance and mystery.