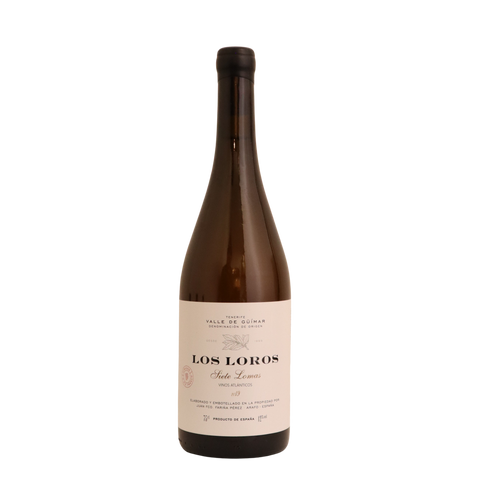 2019 Los Loros "Siete Lomas" Blanco, Valle de Güímar, Canary Islands, Spain
ABOUT THIS WINE
Los Loros "Siete Lomas" is a blend of 80% Marmajuelo and 20% Gual, two indigenous grapes to the Canary Islands. The grapes are co-fermented and aged in gently used oak barrels and the wine spends a few months on the lees with regular stirring before being bottled without fining or filtration and a touch of added SO2.
ABOUT THIS PRODUCER

Juan Francisco Fariña Peréz (known as JuanFra to his friends) is a progressive winemaker in the Valle de Güímar, a small DO along the eastern coast of Tenerife. JuanFra has been making wine in the area since the early 2000s, and has some of the most respectful views on farming and winemaking in the area.

Güímar is an area known for white wines, typically made with Listán Blanco, the ubiquitous white grape of the Canary Islands. It received DO status in 1996 and currently consists of 12 wineries. Ranging from 100 to 1400 meters in elevation up the slope of Las Cañadas del Teide, it includes some of the highest elevation vines in all of Europe. Trade winds coming off the Atlantic help to keep temperatures moderate (these are known as the Alisos winds), rainfall is minimal and sunshine abounds. JuanFra's winery is located within the center of the DO, in the town of Arafo at 700-800m elevation, and most of his vines are in the surrounding area.

Juan Francisco studied winemaking in Tenerife before taking over the vineyards from his father in 1998. He grows Listán Blanco and Albillo Criollo outside his winery in Arafo. In addition to these two plots, he is also working on recuperating old and abandoned vineyards higher up the mountainside in an area called Las Dehesas. At 1400m elevation, these centenarian Listán Blanco vines are only reachable by a special tractor. These vines are very low yielding and go into one of JuanFra's most interesting wines, a solera method blanco named "La Bota de Mateo," aged in an old sherry cask.

Juanfra calls his project Los Loros, after the laurel shrubs that proliferate the upper parts of the Valle de Güímar. Conventional farming is typical in this area of the island, however Juanfra believes in a more holistic style of farming. Favoring a sustainable philosophy, he enjoys showcasing traditional Canarian varietals such as Listán Blanco, Vijariego Blanco, Marmajuelo, Albillo Criollo (no relation to the albillos found on the Peninsula, but a typical varietal found primarily on the island of La Palma) and Listán Negro. He owns most of his own vines, and also works with small farmers in the area, promoting sustainable practices among them. The Los Loros bodega is no bigger than a one car garage, yet Juan Francisco is doing great things in this little-known territory of Tenerife.