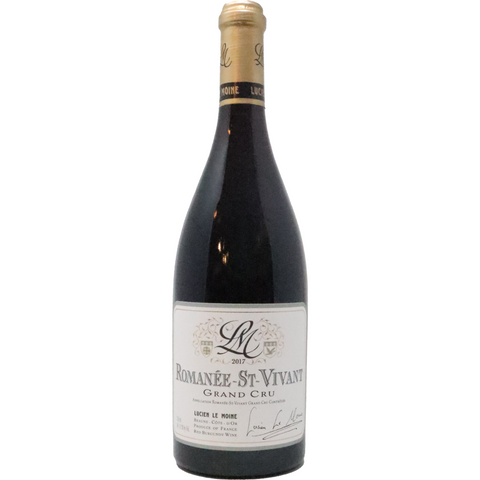 2017 Lucien Le Moine Romanée-Saint-Vivant Grand Cru, Burgundy, France
Herbal tea influence surrounding the subtly spiced aromas of red and dark pinot fruit. Simultaneously racy and lacy with excellent delineation and a highly refined mouth feel, all wrapped in a lingering and beautifully balanced finale.
ABOUT THIS WINE
All wines are aged entirely on their lees. Gentle batonnage is done a few times a month, less or more depending on the vintage, and the wine is never racked during this process. The cellar is naturally humid and very cool, which pushes malolactic fermentations late into summer. The natural CO2 produced during these long fermentations allows Mounir to use little SO2 (it should be noted it is best to decant all Lucien Le Moine wines as they can have some residual CO2). Once malolactic fermentation is complete, he and Rotem follow each barrel, tasting several times a month. Bottling is done by hand via gravity feed when the wine is ready, always after a full moon (when atmospheric pressure is favorable). No fining, filtration, or addition of sulphur takes place at bottling.
ABOUT THIS PRODUCER
In two decades of work, Lucien Le Moine has become one of the most talked about Burgundy producers, making some of the most sought after wines from the region. The approach is extreme – two people, together doing everything by hand, working with a dazzling array of Burgundy's great terroirs. In the late 1980s, Mounir Saouma's visit to a Trappist monastery in the Middle East led to a prolonged stay during which he worked in the monastery vineyards and first learned to make wine. He subsequently studied Viticulture and Oenology in Montpellier, followed by six years working in Burgundy, other areas of France, and California. During this time he became fascinated by traditional methods of viticulture, vinification, and aging. In 1999 he decided to push to the extreme all he had seen and experienced, and with his wife Rotem created a small cellar dedicated to the philosophy of making wines of purity and typicity.
Rotem comes from a cheese-making family, and studied agriculture in Dijon, eventually orienting her studies toward wine. After winning a national prize from the French Academy of Agriculture for her study of the Côte d'Or, she participated in numerous harvests in Burgundy and California. The name for Mounir and Rotem's winery, Lucien Le Moine, is comprised of two references: the Lebanese "Mounir" means light, hence the equivalent French "Lucien"; "Le Moine" translates as "the monk", and refers to Mounir's initial wine experiences at the monastery.
From their years spent in Burgundy, Mounir and Rotem knew many superb growers in the region. They devoted themselves to select production of Crus from these growers. They only produce Grands and Premiers Crus, trying each year to have the most beautiful Crus in each village. They revise their selection of Crus every year, depending on the quality of a particular vineyard in a given vintage, but do not produce any more than 100 barrels (2,500 cases), the absolute maximum for Mounir, who feels that any greater production would rob him of the ability to give each his personal touch.
The couple produces one to three barrels from each Cru. This provides the biggest technical challenge, since each barrel needs to be perfect, from selection, through aging, to bottling: there is no blending to cover up even the slightest errors at the end. They work with growers who are scrupulous with their vines, taste the wines very early (right after press), vinify (in the case of whites) or guide vinification in the methods they prefer (emphasizing phenolic ripeness, acid retention, and some employment of whole clusters), and put the wines in their barrels